China #MeToo: Court to hear landmark case of intern versus TV star
By Vincent Ni
BBC World Service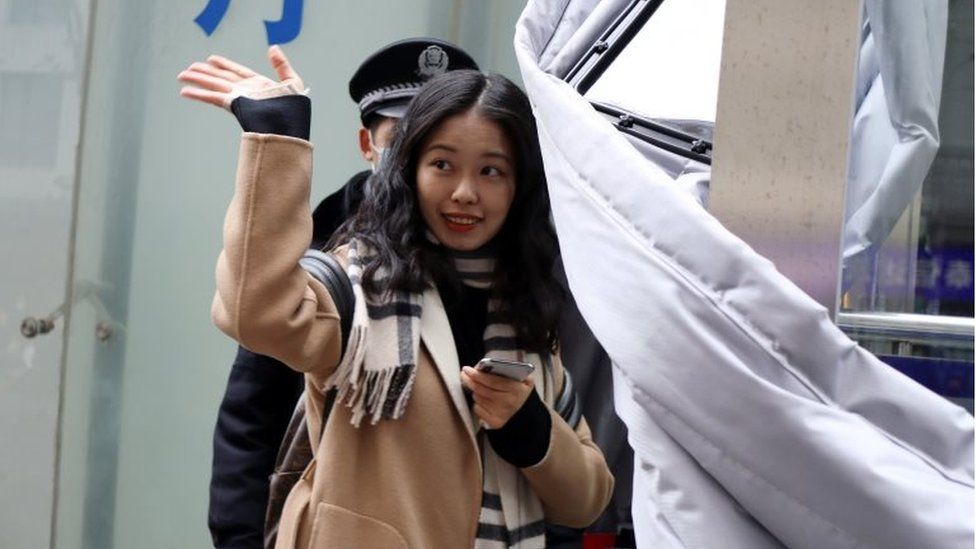 Six years after the alleged incident, a Chinese court on Wednesday is hearing a landmark case that analysts say could define the future of the country's #MeToo movement.
Zhou Xiaoxuan - also known online by her nickname Xianzi - has taken one of the country's most prominent TV hosts to court, accusing him of sexually harassing her in 2014.
He denies all wrongdoing and has in turn sued her and her supporter for damaging his reputation as well as mental wellbeing.
It is rare in China for such cases to even get to this stage and the stakes are high, analysts say.
Ahead of the hearing, which will not be public, Xianzi told the BBC that whatever happens, she will have no regrets. "If I win, this will encourage many women to come forward and tell their stories; if I lose, I'll keep appealing until justice is served."
About 100 people gathered outside the Haidian District Court in Beijing on Wednesday to show their support for Xianzi. Many were carrying posters with the word #Metoo on them. "We wait with you for an answer from history," another sign read.
The gathering was largely peaceful, though there were scuffles as police tried to clear the protesters and dragged away foreign reporters, according to the AFP news agency.
In the summer of 2018, shortly after Xianzi learned about the slew of legal cases against Hollywood film producer Harvey Weinstein, she decided to write down her own experience in Chinese on her WeChat account - in part to show solidarity to a childhood friend, who once told her that she was a survivor of rape.
In the 3,000-word essay, the then 25-year-old recalled a 2014 experience where she alleged that while interning at China's state broadcaster CCTV that year, one of the country's most high-profile TV hosts Zhu Jun sexually harassed her. Xianzi alleged that she did complain to the local police, but claims they told her to drop the accusation because Mr Zhu was a prominent TV host and his "positive impact" on society should make her think twice.
Xianzi's writing soon became a viral post on the Chinese internet after her friend, an NGO worker named Xu Chao, reposted it on her public Weibo account. By then, the term "sexual harassment" had become a part of the Chinese media discourse thanks to the #MeToo movement in the United States and Europe, and a small number of successful complaints in China.
Chinese media outlets soon took a great interest in Xianzi's complaint, as the man she accused is a household name in the country. Many women - as well as men - expressed disbelief and showed solidarity online. But Xianzi claimed that, very quickly, she was told that censors had banned media reporting of the alleged incident.
A few weeks later, Xianzi and Xu Chao were sued by Mr Zhu for damaging his reputation and mental wellbeing. Ironically, it was only then that the story really captured the widespread attention of Chinese media. Paparazzi wanted photos and Xianzi said thousands of survivors of sexual harassment - both women and men - have been in touch through social media since then.
Xianzi told the BBC ahead of Wednesday's court hearing: "It has brought me much harm. At one point, I was accused by the alleged perpetrator that I have a delusional disorder, and I had to prove that I am a normal person.
"And in the process of collecting evidence that dates back to 2014, I had to re-live my experience over and over again. And each time was a torture and humiliation."
Xu Chao is now studying in England. She told the BBC that if the court rules in favour of Mr Zhu, that would mean that his suit against both women would continue. "But I'm getting prepared to fight the charges - even remotely."
Mr Zhu has consistently denied all the allegations. The BBC's requests to interview Mr Zhu and his lawyers ahead of the hearing went unanswered.
Chinese law bans workplace sexual misconduct. But until recently, there has been no legal definition of what constitutes sexual harassment, said Darius Longarino, who studies China's changing legal framework in dealing with such cases at Yale Law School's Paul Tsai China Centre.
"To date, there have only been a small number of sexual-harassment-related cases that have gone to Chinese courts. And often what you see is that if a workplace has punished the alleged perpetrator, the alleged perpetrator would then sue the company for violating their labour contract.
"Or the alleged perpetrator would sue the firm or the complainant for damaging their reputation," Mr Longarino told the BBC.
In fact, the term "sexual harassment" only started to appear in 2005 in a national law on protecting women's interests. Since then, there has been a trickle of local and provincial regulations emphasising the enforcement of it, but little has changed at ground level, said Mr Longarino.
According to the Beijing Yuanzhong Gender Development Centre, a local NGO, among the more than 50 million publicly-available Chinese court verdicts between 2010 and 2017, only 34 were related to sexual harassment. Of those, just two were brought by victims suing alleged harassers - and both were dismissed eventually on the grounds of "lacking evidence".
There are signs that things are changing, however. In another high-profile case last year, a social worker sued the director-general of a non-profit organisation in southwest China's Sichuan province and won. Chinese media called it the first legal victory since the start of the #MeToo movement in China.
In May, Chinese lawmakers introduced a new Civil Code, to come into effect on 1 January, 2021. It clarifies the definition of sexual harassment as what's "carried out against the will of another by means such as speech, text, images, or physical conduct". It also says that government, companies and schools should make an effort to stop such behaviour.
Critics argue that this is still not sufficient in effectively protecting victims of sexual harassment. "It went as far as saying that companies have to adopt measures to tackle workplace sexual harassment, but stopped short of saying what liability would companies face for failing to do so," said Mr Longarino.
According to a 2018 survey of more than 100 respondents from developed coastal cities, 81% of their companies did not have anti-sexual harassment policies on the books, while another 12% did, but did not enforce them. Only 7% of respondents, according to this poll, said their companies operated such a policy.
But despite the shortcomings, Mr Longarino said that the fact that Xianzi's case has gone this far is an encouraging sign that things are changing. "Now is another pivotal moment where we will see if courts can give a fair and rigorous hearing.
"Only then will the law provide meaningful protection to sexual harassment survivors."
Additional reporting by the BBC's Yitsing Wang
You may also be interested in: