Ng On-yee: Snooker's new world number one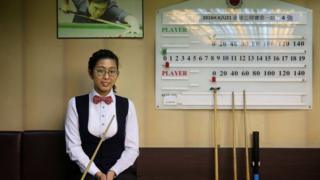 At first glance, with her youthful features and thick glasses, Ng On-yee could be mistaken for a schoolgirl, rather than a world number one sportswoman.
But Ng has just become the first Asian woman to top the World Ladies Billiards and Snooker (WLBS) rankings.
The 27-year-old replaced long-time number one Reanne Evans of England last week as she reached the quarter-finals of the British Open in Stourbridge.
Three other female snooker players from Hong Kong are also among the world's top 15.
"Snooker has always been a male sport in Hong Kong," Ng On-yee said of one of the territory's most successful sports.
"I think I have proved that women can play snooker very well, too - even with big glasses," she said with a big smile.
Snooker has become a well-known sport in the city of seven million, especially after the success of Marco Fu Ka-chun, who currently ranks number nine in the world.
In recent years, Hong Kong has shown itself to be a nurturing ground for ground-breaking female athletes. Two years ago, fellow Hong Konger Chan Yuen-ting became the world's first female coach leading a men's professional football team to a top-tier league title.
Like father, like daughter
Ng fell in love with snooker as a teenager, when her father took his youngest, video games-obsessed daughter to an amateur competition he participated in.
What got her attention first was the waistcoat and bow tie that her father wore. "I thought that was cool, so I asked my dad to teach me how to play because I wanted to wear that outfit, too," Ng told BBC Chinese. "It all started from there."
The fact that her father was an amateur player and worked at a local snooker parlour meant that she could train there for free, and also meant she avoided the bias against the sport held by many local parents, who see billiard rooms as a place where gangsters hang out and fight - as depicted in movies.
"To me, snooker has always been a gentlemanlike sport," Ng said.
Tearful moments
Ng remembers people looking at her "curiously" as they didn't see girls train in snooker very often. On bad training days, she says, she had to hide and cry in the bathroom.
While people may assume that there are few women players because the game requires physical strength, Ng says it comes down to a "lack of opportunities to play".
"In the past, there were usually only one or two women's tournaments every year, but a dozen of men's."
In the past two years, Ng has had many more opportunities to play against the world's best men players, both in World Championship qualifiers and exhibition matches in the Hong Kong Masters 2017.
But even in 2017, the best year of her career so far in which she won five WLBS ranking titles, Hong Kong's snooker queen hasn't been able to make much progress against men. Last April, she was defeated by Nigel Bond 10-1 in the WC qualifiers.
"I want more opportunities to play against men's professional players in the next few years, as I would improve faster that way," Ng said.
Mind game
She describes snooker as a "mentally tough game".
"I think every snooker player needs to be great at controlling their emotions," she said, and admitted that it was an area she still had to get better at.
"To say girls tend to think too much is a joke. It all comes down to experience and training."
In one of her trademark competitions last year, where she regained the women's World Championship title, Ng went through a match day that would have been physically and mentally demanding for players of either gender.
After losing to Reanne Evans in the same competition in 2016, Ng overcame a 60-point gap and defeated the Englishwoman at the semi-final before edging India's Vidya Pillai 6-5 in the final. Both games went all the way to the final frame and took nearly 15 hours in total on the same Sunday.
Earlier this month, one of Ng's coaches, Wayne Griffiths, told media that her sheer belief in herself and determination had played a crucial role in her success.
"Even though many thought Reanne could not be caught, On-yee always believed it was possible," Griffiths told the South China Morning Post.
"This belief, coupled with her work ethic and desire to improve, now sees her deservedly at the top of the world rankings."
The young woman has also developed a support system - beside training and competing, what Ng enjoys most is hanging out with her dog Muffin, a four-and-a-half-year-old Golden Retriever.
"I used to be quite down when I had a bad day in the training room or lost a game," Ng said.
"But now, since I started keeping my dog, even if I don't play well, I'd leave it all behind the moment I open the door and hug her."
As the new top woman in her game, Ng believes the gender gap in the sport will be narrowed in the future.
"I always believed that gender doesn't matter in snooker," she said.
But does the expectation to break the glass-ceiling give her extra pressure?
"Personally, I don't focus on that very much," she said, "I always see snooker as a game about yourself - you focus on what you can do at that table side."