JJ Redick: NBA star apologises after 'racist' video outrage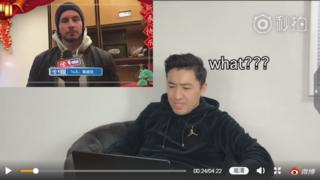 A basketball player has apologised after a video of him allegedly using a racial slur was widely shared online.
Social media users claim Philadelphia 76ers player JJ Redick used a derogatory term when taking part in a video compilation of NBA stars wishing fans a happy Chinese New Year.
A reaction video to the compilation, and especially Redick's comment, posted on China's social media platform Weibo by user MakeMalik has been viewed over 16 million times.
Redick has claimed he was "tongue-tied" and has apologised.
Redick took to Twitter to dispute the claims, writing: "Clearly I was tongue-tied, as the word I purportedly said is not in my vocabulary. I'm disappointed that anyone would think I would use that word."
He later said he was "so sorry for upsetting anyone," and gave an explanation of how the video was filmed.
"I was intending to say 'NBA Chinese fans,'" he wrote. "It sounded weird in my mind so I changed it mid-sentence to 'NBA fans in China'.
"It came out the wrong way."
You may also like:
A Chinese translation of the apology has also been shared to Weibo, with users disputing the apology's sincerity.
The reaction has generally been negative, with one user calling it "definitely an insult," and another telling the NBA to apologise.
Meanwhile, other users have drawn parallels between the comment and China's own Lunar New Year TV show, which featured a sketch where an actress wore blackface.
But Asian-American basketball player Jeremy Lin, who recently tweeted his frustration at people using racial slurs, particularly the one Redick is accused of using, has been largely praised after coming to the defense of Redick, writing: "I truly believe he didn't say a racial slur".
Those who commented on Lin's post mostly agreed, with filmmaker and actor Jon Lee Brody calling Lin "a class act".