Germany's Daimler issues 'full apology' to China over Dalai Lama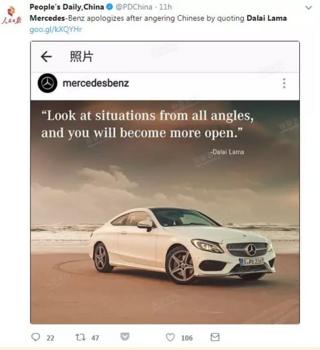 Daimler has issued a second emphatic apology to China after its subsidiary, Mercedes Benz, quoted the Dalai Lama in an Instagram post on Monday.
It initially apologised for the post on Weibo, China's Twitter-like platform, on Tuesday.
China sees the Tibetan spiritual leader of the autonomous region as a separatist threat.
The advert showed a car with the words: "Look at situations from all angles, and you will become more open."
Instagram is blocked in China, but the post was reposted by Chinese internet users, causing a commotion.
The official Chinese news agency, Xinhua, said the German carmaker had written to China's ambassador to Germany expressing a sincere apology.
From Pepsi to Nivea: Some of the worst advertising fails
Shea Moisture apology after ad backlash and Chinese navy poster criticised
Ikea apologises for 'sexist' China advert
According to Xinhua, the letter said Daimler had no intention of questioning Beijing's sovereignty over Tibet and would offer "no support, assistance, aid or help to anyone who intentionally subverts or attempts to subvert China's sovereignty and territorial integrity".
"Daimler deeply regrets the hurt and grief that its negligent and insensitive mistake has caused to the Chinese people. Daimler fully and unreservedly recognises the seriousness of the situation, which the company has caused and sincerely apologises for," the letter apparently read.
The company's first apology was welcomed by China's foreign ministry but dismissed by the People's Daily official newspaper, which said it "lacks sincerity and reflects the German carmaker's lack of understanding of Chinese culture and values".
It is not the first instance of frantic corporate backtracking after causing offence in one of the world's largest consumer markets.
Earlier this year, China shut down the Chinese websites of Marriott International for a week, after the firm listed Tibet and others as separate countries in a Chinese-language questionnaire to customers.
The problem was compounded when Twitter users noticed that the hotel chain's official Twitter account had "liked" a post by Friends of Tibet - a group that supports Tibetan independence.
Marriott went on to begin dismissal proceedings against the employee responsible.
China has for centuries claimed sovereignty over Tibet and sent in troops to enforce its rule in 1950. The Dalai Lama fled after a failed uprising in 1959 and is now in exile in India.