Macau police hunt for casino dealer after $6m theft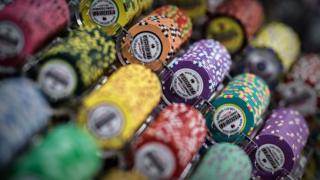 Police in Macau have said they are looking for a casino dealer who allegedly stole more than 47m Hong Kong dollars (£4m; $6m) worth of chips.
Police have not named the casino, but Reuters news agency and local media reported the theft took place this week in a VIP room at the Wynn Macau.
Macau, the world's largest gambling hub, is home to six casino operators.
As a specially administered region, it is the only place in China where casino gambling is legal.
Wynn Macau is owned by Wynn resorts, which has its headquarters in Las Vegas. Chips from the casino can only be exchanged for cash in a Wynn casino.
Police are currently investigating whether there were multiple suspects involved.
Macau's Gaming Inspection and Co-ordination Bureau (DICJ) expressed concern over the incident and asked operators to beef up their security.
Macau's casino revenue reached $33bn in 2017, according to Macau's Gaming Inspection and Co-ordination Bureau.
Thefts are rare but not unheard of.
In 2016, a VIP room supervisor in Macau stole some HK$99m from a gaming room in L'Arc Macau casino.