Hong Kong disqualified activists charged with illegal assembly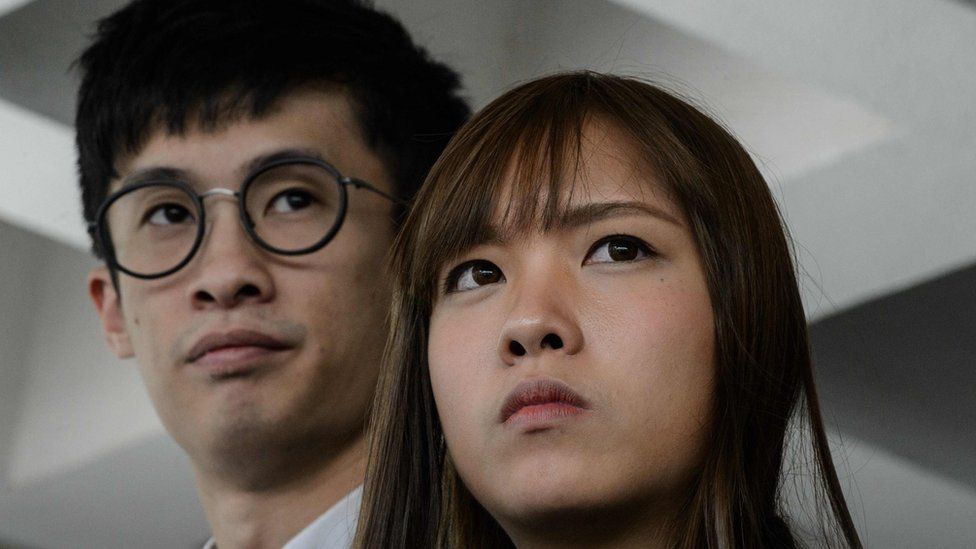 Two Hong Kong pro-independence activists who were disqualified from sitting as MPs have been arrested and charged with illegal assembly.
Sixtus "Baggio" Leung and Yau Wai-ching were elected last year but barred from taking their seats after they refused to properly swear in.
The arrests relate to their attempt to force their way into a council chamber in November to repeat their oaths.
The pair were released on bail later on Wednesday.
Mr Leung told reporters the charges were "ridiculous" as they had been MPs at the time of the incident, RTHK reported.
Mr Leung and Ms Yau sparked controversy last October when, during their swearing-in ceremony, they unfurled a pro-independence banner and used what is considered to be a disrespectful pronunciation of the word China. Ms Yau also swore.
Their oaths were ruled to have been invalid.
The following month they attempted to read their oaths properly as security officers tried to block them. Those oaths were also rejected.
Beijing later ruled that legislators who did not take their oath in a solemn way could not take office. A Hong Kong court disqualified them.
Hong Kong is semi-autonomous under the "one country, two systems" framework - in place since the territory was returned to China from the British in 1997.
The oaths incident fuelled ongoing debate over Hong Kong's pro-independence movement, which vigorously rejects what it sees as Beijing's growing control over the city.