China detains care centre officials after deaths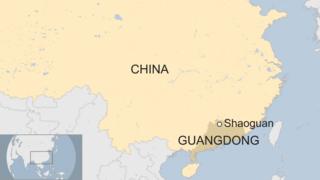 Chinese authorities have detained officials from a care centre where 20 residents have died over two months.
The Lianxi Foster Centre housed children, homeless people and the elderly in poor living conditions, local media reports said.
Staff restrained unruly children by tying them up with rope, and an autistic boy died after living there for just a month, Beijing News added.
The case has prompted widespread horror and outrage in China.
It has also sparked discussion about the quality of China's social services and care for vulnerable groups.
Cramped and dirty
The case came to light after Beijing News ran an expose on Lianxi Foster Centre in Shaoguan in the southern Guangdong province earlier this week.
The newspaper's checks with the local mortuary found that 20 people living there had died over a period of 49 days, from January to February.
It also spoke to a previous employee and emergency services personnel who had visited the centre, who described cramped and dirty living conditions, and unruly children being tied up.
The newspaper also highlighted the case of Lei Wenfeng, a 15-year-old autistic boy who wandered away from home, got lost, and was placed by authorities in the centre.
He died in December after staying at Lianxi for just over a month. His family claimed his body was emaciated and covered in scars.
The report also raised questions about whether the centre, which was privately run but received state funding, was profiting from its residents. It allegedly received 660 yuan ($95; £77) per person every month from the government.
Guangdong authorities said in a statement on Wednesday that they had shut down the centre and detained several officials and staff members.
They also said that a taskforce drawn from various provincial departments would be conducting an investigation.
The case has sparked deep outrage on Chinese social media, some of whom have called the centre a "death camp" and "modern-day concentration camp".