China's Lin Dan: Badminton star's affair shocks fans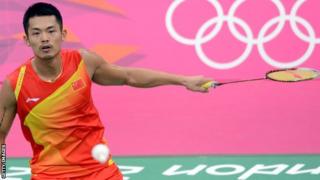 Chinese badminton superstar Lin Dan has shocked his fans by admitting he had an affair while his wife was pregnant.
There was outrage on social media when pictures surfaced of him with a "mystery woman".
The two-time Olympic champion confirmed the rumours and apologised. His wife, fellow badminton star Xie Xingfang, had their first child on 5 November.
Social media users quickly identified the woman he was seen with in the photos as actress and model Zhao Yaqi.
Cheng Hao Chen wrote: "Brother, do you know that you were the pride of 1.3 billion Chinese people? How about now?"
After the pictures emerged, another user, Duo Duo Wa Bai Cai, said: "A shameless mistake has sent you to hell from heaven.
"No matter how outstanding your achievements are, you will fall short of being a father and a husband! Sorry, super Dan, this is unforgivable - you have neglected your responsibility as a man!"
Lin, nicknamed Super Dan, used to be world number one but is now ranked third, the Straits Times reports.
"As a man, I will not defend myself," he wrote. "But my behaviour has hurt my family. I apologise to my family here. Sorry."