Italian driver races China daredevil road in record time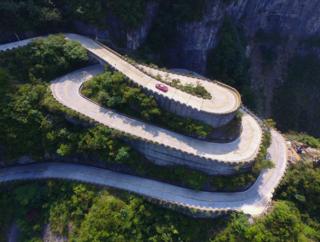 An Italian driver has raced up China's Tongtian Road, considered one of the world's most dangerous, in record time.
Fabio Barone covered the nearly 11km (6.8 mile) route in just 10 minutes 31 seconds, on 21 September.
The road has 99 sharp turns on its way up Tianmen Mountain, rising from 200 to 1,300 metres above sea level.
He had his Ferrari specially modified for the attempt, shaving crucial kilos off its weight by swapping metal for carbon fibre parts.
Mr Barone is not new to racing hairy mountain roads, having set another speed record last year on the Transfagarasan mountain road in the Transylvanian Alps in Romania.
Tianmen Mountain is no stranger to extreme motor sports either, having hosted a Red Bull "drift king" event, for adrenaline-seeking drivers to slide their cars around its tight bends.