China protest village leader Lin Zuluan convicted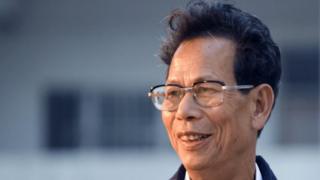 A Chinese village leader involved in protests against land seizures has been sentenced to just over three years in jail on corruption charges.
Lin Zuluan's supporters, including much of his village of Wukan, say his confession to bribery was forced.
The village won a rare concession to elect their local leader after big protests against land grabs in 2011.
The town has held numerous protests in support of Mr Lin since he was detained in June.
According to Chinese state media reports, Lin Zuluan told the court he would not appeal.
He was also fined 400,000 yuan ($60,000) after being found guilty on several counts, including accepting bribes, Hong Kong's Ming Pao newspaper reported.