Chinese couple tie knot on glass bridge over gorge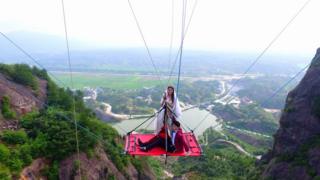 It's not everyone's idea of a special day, but one couple in China chose to celebrate their wedding by dangling in mid-air from a glass bridge.
The bride and groom married on the Shiniuzhai bridge in Pingjiang, Hunan province on Chinese Valentine's Day on 9 August, China News Service reports.
Despite dangling 180m (590ft) above the ground, they were still able to smile for the camera in their wedding photos.
Glass bridges have become increasingly popular in China recently.
Just a few weeks ago, five other couples chose to exchange their vows on the same bridge - although their feet stayed firmly on the glass floor.