China floods: At least 75 dead or missing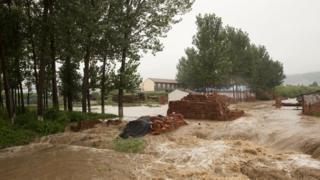 At least 75 people in northern China have died or gone missing since Monday in some of the worst floods the country has seen in years, says the Civil Affairs Ministry.
Heavy rains across usually dry regions like Beijing forced tens of thousands of people to evacuate their homes.
Hundreds of flights and trains were also cancelled after the capital was hit by persistent rain.
The first half of the year has seen 576 people recorded as dead or missing.
Authorities have mobilised troops and heavy equipment across China as the rain threatened embankments along rivers in the country's central region.
President Xi Jinping warned the country to be prepared for more hardship to come, adding that officials found negligent in their duties would be severely punished.
Emergency measures, such as discharging water from the Three Gorges Dam on the Yangtze, have already been taken by authorities.
The Beijing city government issued an orange alert on Wednesday, the second highest alert in the country.
Water levels in some of China's major rivers have exceeded the floods of 1998, which saw 4,150 people killed, most of them along the Yangtze River.