China universities 'must shun Western values'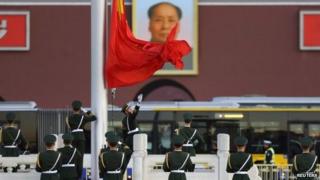 China's education minister has told universities to shun textbooks that promote Western values, state media say.
Yuan Guiren said universities should maintain political integrity and keep criticism of China's leaders or political system out of the classroom.
His comments, reported by Xinhua news agency, came at an educational forum.
In recent months restrictions on academics appear to have been tightening.
In December, law professor Zhang Xuehong said he was sacked by the East China University of Political Science and Law in Shanghai after refusing to apologise for writing articles criticising the government.
His dismissal followed the expulsion of outspoken economist and free speech advocate Xia Yeliang from Peking University in October.
Mr Xia was a signatory to a high-profile document calling for democratic reforms, Charter 08.
Prominent Uighur academic Ilham Tohti - who had urged better dialogue between Beijing and the Uighur minority in Xinjiang - was jailed for life for separatism last year. Several of his students were also jailed.
---
Analysis: Celia Hatton, BBC News, Beijing
The Chinese authorities have not officially banned textbooks promoting "Western values". Instead, the minister's comments can be seen as a red-light warning to Chinese academics. They signal the intention by President Xi Jinping's government to continue tightening control over traditional sources of dissent, including Chinese university campuses.
Those working in the arts, academia and China's non-profit sector are subject to continual reminders of their fragile existence. High-profile cases of outspoken university professors, activists and artists who have been sacked or imprisoned feature regularly in the state media.
It is possible an outright ban on certain textbooks might follow, but Mr Yuan's comments have already served one purpose for the Party: academics, and others, consider yourselves warned.
---
According to Xinhua news agency, Mr Yuan said tertiary education institutions should "never let textbooks promoting Western values appear in our classes".
Remarks "that slander the leadership of the Communist Party of China, smear socialism or violate the country's constitution and laws must never appear or be promoted in college classrooms", the agency reported him as saying.
Late last year, Chinese President Xi Jinping called for greater ideological supervision in universities, urging authorities to step up the party's "leadership and guidance", and "improve the ideological and political work".