HK protests: Joshua Wong and student leaders released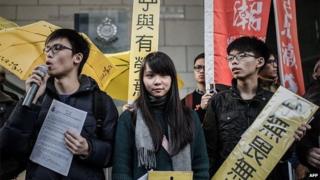 Four student leaders involved in last year's pro-democracy protests in Hong Kong have been freed without charge after they reported to a police station over their role in the demonstrations.
The students, including Joshua Wong, were called in on suspicion of participating in illegal gatherings.
They were placed under investigation and told they could still be charged.
Protesters demanding free elections in 2017 brought the city to a stand-still for two months beginning in September.
Under the current arrangement, Hong Kong's leader will be elected from a list of candidates approved by the Chinese government.
The demonstrators want anyone to be able to stand for leader.
A number of activists and protest organisers have now reported to police and been put under investigation.
"I was held for three hours and I was arrested on charges of calling for, inciting and participating in an unauthorised assembly," Mr Wong said at the police headquarters, according to AFP news agency.
He said he did not reply any questions and refused to be bound by police bail.
Three other student protest leaders - Oscar Lai, Agnes Chow and Derek Lam - appeared at the police station over similar allegations.
The demonstrators, who were a mixture of activists, students and members of the public, camped out on major roads paralysing parts of the city.
However the Chinese and Hong Kong governments gave no concessions on their stance on leadership elections.
As the demonstrations evolved, numbers dwindled until it was just a few hundred students who remained at protest sites.
In December, the three main protest camps around Hong Kong were dismantled by police.
Mr Wong and others were accused by authorities of obstructing the police clearance.
On Friday, the four students, who are part of the Scholarism group, arrived at the Wan Chai police station along with a crowd of supporters hoisting pro-democracy signs and yellow umbrellas - the symbol of the movement in Hong Kong.
In December, the three founders of the Occupy Central group, which was also involved in organising protests, were asked to report to police, but after a brief meeting left without being arrested or charged.