Chinese police arrest 110 for selling 'contaminated pork'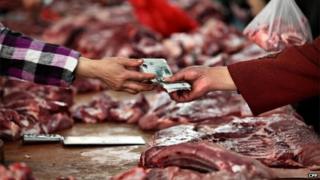 Chinese police have arrested more than 110 people suspected of selling pork and other products from diseased pigs.
They were part of a network which had been buying pigs which died from illnesses from farms at low prices since 2008, the Ministry of Public Security said on Sunday.
The contaminated meat was sold to markets in 11 provinces.
This is the latest in a series of scandals that have dented public trust in China's food safety standards.
In 2013, more than 10,000 dead pigs were found, apparently dumped, floating down a river in Shanghai that supplies tap water to the eastern Chinese city.
'Unclean meats'
The network of 11 groups bribed staff from food supervising authorities to get quarantine certificates, the statement from the ministry said.
The pork was then sold to markets or processed into bacon, ham or cooking oil.
The ministry said 75 of the suspects had already been prosecuted. Several food quarantine staff were also being investigated for related crimes.
Police confiscated more than 1,000 tonnes of the contaminated pork, 48 tonnes of cooking oil processed from the pork and other unclean meats, the ministry said.
China has been hit by various food safety scandals, including tainted baby milk-powder, some involving large multinational such as McDonalds.