China media: Latin America trade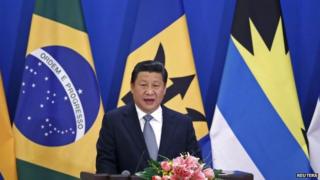 Papers assess a China-Latin America trade forum, while urging Western media outlets to exercise "respect and prudence" in the aftermath of the Paris shooting.
Chinese President Xi Jinping on Thursday pledged to double annual trade between China and Latin America to $500bn (£330bn) over the next decade.
Mr Xi made the remarks during the opening ceremony of a high-level ministerial meeting between China and the region on Thursday.
The People's Daily says warmer relations between China and Latin America which will "inject new vitality to the world economy".
"It will push the world order towards a fairer and reasonable direction," it adds.
Cui Shoujun, an expert in Latin American studies, tells the Beijing Times that the forum is a "breakthrough" in Beijing's diplomacy because there was a lack of a platform for both sides to hold dialogue in the past.
Sun Hongbo, a researcher at the Chinese Academy of Social Sciences, points out that Beijing's influence in the region will increase after this meeting.
The pundit tells the Global Times that Latin America will be "more independent and, to some extent, offset US dominance" by strengthening ties with China.
A commentary in the Haiwai Net highlights that the high-level meeting is China's first major diplomatic event of the year.
"In 2015, China will implement its comprehensive diplomacy to achieve interconnectivity… and will not be proposing new strategic and diplomatic initiatives," says the article, adding that Beijing will continue to gain the trust of the international community.
'Cultural clashes'
Turning to other news, papers continue to condemn the attack on the Paris offices of satirical magazine Charlie Hebdo, which killed 12 people.
Thousands gathered for rallies across France and in some cities in Europe and the US on Thursday, standing in solidarity with victims and supporting press freedom.
The magazine's office was firebombed in 2011. It had angered some Muslims by printing cartoons of the Prophet Muhammad as part of its irreverent take on news and current affairs.
State-run Xinhua News Agency says the attack is "deplorable" and urges every country to "close ranks and fight shoulder to shoulder against terrorism in all forms".
The commentary also subtly hints that press freedom is a problem that needs to be addressed.
"They (differences in values) do form a reality that demands basic respect and prudence to be exercised in mass communication to reduce inter-culture and inter-religion misunderstanding and distrust, which can easily be exploited by terrorists," it says.
The news agency's view on freedom of speech has been shared by various Chinese media outlets.
"People in New York and several other cities have marched in support of freedom of speech, but we should also reflect on the boundary of such a freedom… Should there be a curb to such a freedom when the free speech has hurt the feelings and beliefs of other groups?" asks the Beijing Youth Daily.
The Global Times states that "condemning terrorism doesn't necessarily mean supporting controversial cartoons".
"What Charlie Hebdo has published is not completely defendable and it is understandable that some Muslims feel hurt by the cartoons in the magazine," says the daily.
"If the West can be milder in expressing cultural clashes and consider the feelings of many others, it would be very rewarding and respectable," it adds.
The editorial also says that Western media has "double standards" when reporting terrorist attacks in China.
"The world is always unified in its response to terrorist attacks that happened in the West, but when it's the West's turn to react to such attacks in countries like China and Russia, they often beat about the bush… This always upsets Chinese people," it says.
Chinese papers often criticise the US and Western media outlets for being "sympathetic" towards "terrorists" in Xinjiang and for lashing out at China's heavy-handed treatment of the Muslim minority there.
Xinjiang, which borders Central Asia, has seen a spate of attacks in recent months, amid tension between its minority Muslim Uighur population and Han Chinese residents.
A commentary in the official Haiwai Net foresees that the Western media will not soften its stance but will continue to publish satirical cartoons that would further provoke extremists.
BBC Monitoring reports and analyses news from TV, radio, web and print media around the world. You can follow BBC Monitoring on Twitter and Facebook.