China village petitions to 'isolate' HIV positive boy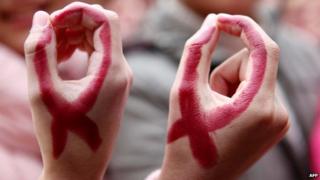 Villagers in China's Sichuan province have petitioned authorities to "isolate" an HIV positive eight-year-old boy, state media report.
Kun Kun lives with his grandparents, who struggle to care for him. Local people said he had been running wild and had begun starting fires.
A Beijing Youth Daily feature on the boy has attracted tens of thousands of comments online.
Officials are reportedly planning to "educate" the villagers.
Discrimination against those with Aids is said to be common in China.
The newspaper said that the boy, who has been given the pseudonym Kun Kun, had contracted the virus from his mother when she was pregnant with him, but was only diagnosed when he was about five years old.
His mother and stepfather work in other provinces, so he lives near the town of Xichong with his non-blood-related grandparents, who had adopted his stepfather as a child.
Kun Kun does not go to school, said the paper, but spends his days playing in the woods. He has also set his own home on fire, as well as grass piles and the village oil well, it said.
"Nobody wants to play with me, so I just play by myself," he was quoted as saying.
Boy 'too scary'
At a special meeting on 7 December, 203 village residents signed a petition asking the authorities to "carry out preventative isolation measures by taking Kun Kun away from the village, and protect the health of the villagers and children".
The statement, quoted in state media, said that Kun Kun "having contracted HIV from his mother, now provokes fear among the community".
Beijing Youth Daily published a picture showing Kun Kun watching as his grandfather signed the petition, and said he later "raced home, climbed into bed, and laid there wordlessly".
The village's party secretary Wang Yishu told the paper: "Everyone pities him, he's innocent and after all he's just a child. But the fact that he has Aids is too scary for this village. We don't know what to do with him."
Villagers told the newspaper they were afraid their children would "catch Aids" if they came into contact with him or were bitten by him. One called Kun Kun a "time bomb".
Asked by another newspaper why he signed the petition, Kun Kun's grandfather said he and his wife were elderly and unwell, and had "no way of taking care of this child". He added that he had had no news from Kun Kun's parents.
'Lack of knowledge'
Kun Kun's case sparked intense discussion on weibo, China's Twitter-like microblogs, where the reaction was a mix of scepticism, sympathy for the villagers, and pity for Kun Kun.
Some of the most popular comments questioned Kun Kun's predicament. "Such a young child! How could he have contracted Aids?" said one user.
Others pointed out Kun Kun's unruly behaviour and said he presented a "safety risk" to the villagers.
But many also expressed sympathy for Kun Kun and condemned the villagers' behaviour.
"This has to do with many people lacking knowledge, and the crux of the matter is there needs to be more education to avoid more such situations," said one user.
A local official told the paper that they planned to "conduct ideological education" for the villagers, and also look for an organisation to take in Kun Kun as his grandparents, who are his guardians, are elderly.
Observers say discrimination against those with HIV and Aids is still rife in China, although the government has tried to combat it with laws aimed at stopping discrimination.
In August, two passengers with HIV sued a budget Chinese airline for refusing to let them board a plane.
The World Health Organization noted earlier this month that China had made improvements in HIV prevention and treatment, but needed to do more. The WHO estimates that China has about 800,000 patients with the virus.