China death penalties for Xinjiang market attackers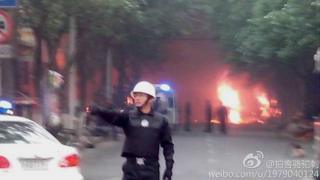 Six people have been sentenced to death for an attack on a market in China's western Xinjiang province that killed 39 people in May.
Attackers drove two cars into shoppers and threw bombs in the Urumqi attack.
At the same hearing, two people were given the death penalty for an attack at a railway station in April.
The violence prompted Beijing to launch a year-long crackdown on what it says is separatist terrorism in Xinjiang, home to the Muslim Uighur minority.
Some 200 people have died in clashes, dozens have been sentenced to death and many more jailed since the crackdown was announced.
The exiled World Uyghur Congress has blamed the violence on the central government's policies, which the group says repress the local culture.
Information about incidents in the region, where ethnic tensions between Uighurs and Han Chinese continue, is tightly controlled.
---
Uighurs and Xinjiang
Uighurs are ethnically Turkic Muslims
They make up about 45% of the region's population; 40% are Han Chinese
China re-established control in 1949 after crushing short-lived state of East Turkestan
Since then, there has been large-scale immigration of Han Chinese
Uighurs fear erosion of their traditional culture
Why is there tension between China and the Uighurs?
---
The Intermediate People's Court in Urumqi sentenced the six to death for helping to organise the market attack on 22 May.
The list of crimes included participating in a terrorist organisation, handling explosives and corruption.
Two others received suspended death sentences, which is usually commuted to life in prison.
The attack at Urumqi's railway station took place as President Xi Jinping was ending a visit to Xinjiang on 30 April.
Attackers brandishing knives and bombs attacked people at the station, killing one.
Two people were sentenced to death for the railway attack, and three others given suspended death sentences.
Xinjiang lies in China's far west, bordering Central Asia.
China says it is pouring money into the region, but some Uighurs say their traditions are being crushed.
In 2009, riots in Urumqi left some 200 people dead.