Chinese rail official's mistress jailed over bribery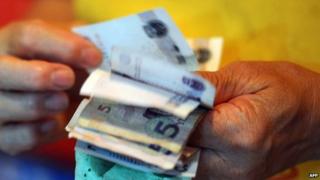 A Chinese court has jailed the mistress of a former top railways official for aiding his bribe-taking, state media report, amid a corruption crackdown.
Singer Luo Fei was given five years by a Beijing court, China Daily reported.
She was accused of helping Zhang Shuguang hide almost 2m yuan (£213,000; $330,000) in bribes.
Zhang, the former deputy chief engineer of the now-disbanded railways ministry, was given a suspended death sentence in October for corruption.
His conviction was one of a series linked to the once-powerful ministry, which was dismantled in March 2013 after a deadly collision involving two high-speed trains.
Liu Zhijun, the former railways minister, was given a suspended death sentence four months later for corruption and abuse of power.
Chinese President Xi Jinping has warned repeatedly that endemic corruption threatens the public's trust in the Communist Party and top officials.
In multiple cases, reports have emerged of the lavish lifestyles of those under investigation - often involving one or more mistresses.
These mistresses have become a symbol of corruption, because they are perceived as unaffordable on a public official's salary. Liu Zhijun, for example, was reported to have had 18 mistresses.
According to China Daily, Zhang Shuguang had admitted that he gave Luo Fei a monthly salary plus a car and watches.
Citing legal experts, the paper said her conviction showed a move to hold those close to corrupt officials - as well as the officials themselves - to account.