China media: President Xi's diplomacy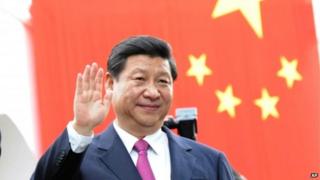 Papers say President Xi Jinping's recent visits to Australia, New Zealand and Fiji have improved China's "diplomatic image".
Describing the week-long trip as a "finale of Chinese diplomacy" for this year, Foreign Minister Wang Yi said that "China enjoyed a fruitful diplomatic year by linking the country and the world more closely", the China Daily reports.
Agreeing with Mr Wang's views, the People's Daily says that the "finale" has "drawn China and the Oceania countries closer" and "further improved China's diplomatic strategy in the wider region".
"It [the strategy] will have an important and deeper impact on the development of the Asia Pacific and the world," adds the paper.
Analysts interviewed by the Global Times say that Mr Xi's trip has "demonstrated a new diplomatic style as China seeks to reshape its international image as a major world power by developing wide diplomatic ties…(with) both smaller and major countries".
"China has displayed a new diplomatic image of widely developing ties with countries around the world. Mr Xi's state visit has proven that China is focusing not only on developing relations with major countries, but also smaller ones...," Huang Wei, a professor with the Chinese Academy of Social Sciences, tells the paper.
Pundits note that India has also developed its ties with Pacific Island nations, but it is "building its status as a regional power", whereas China seeks to "develop relationships with Fiji and its neighbouring countries from a more global perspective, one in which China acts as an international leader".
The Beijing News observes Mr Xi's itinerary was "carefully selected" to further enhance Beijing's influence in the region.
"Australia and New Zealand are important partners of China in the southern hemisphere. China is their largest trading partners. In politics, both countries have upgraded their ties with Beijing to become a comprehensive strategic partners," says the paper.
India's 'backward infrastructure'
And finally, some papers cast doubts on India's economic development against the backdrop of Prime Minister Narendra Modi's push on turning India into a global manufacturing hub.
Mr Modi launched the pro-manufacturing "Make in India" campaign in September in the hope of boosting investment and economic growth.
Commenting on Mr Modi's campaign, an article in the People's Daily wonders if India can succeed in becoming a "global factory" with its "backward infrastructure".
"India is known as the global office. They must be facing helplessness as it wants to transform itself to become the global factory," says the article.
The paper highlights that India's share in world export in 2013 was "only 1.7%, far behind China's 11%". It adds that India's outsourcing business "does little to help alleviation of poverty" in the country.
The paper agrees that India has a "good foundation and potential" to develop its manufacturing industry due to such reasons as the wider usage of English and "lesser suspicions of the US and Europe towards Delhi".
But it reminds investors to take note of the "transaction costs" of doing business in the South Asia country.
"You cannot change the investment environment overnight… The English-speaking population is concentrated in the elite group, and the number of young people who are university graduates are less than 20 million," it points out.
BBC Monitoring reports and analyses news from TV, radio, web and print media around the world. You can follow BBC Monitoring on Twitter and Facebook.