Seven people killed in China hospital stabbing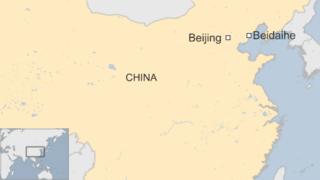 A man armed with a knife has killed seven people at a hospital in north-eastern China, state media report.
The attack took place on Thursday in the popular resort town of Beidaihe, state broadcaster CCTV news said.
The 27-year-old suspect was believed to have been suffering from a mental illness and had been arrested, it added, giving no motive for the attack.
The incident comes as the latest in a series of fatal stabbing attacks across China.
Local media identified a hospital administrator as being among those killed in the latest incident. They also said a nurse was injured.
In September, four children were killed by a man while on their way to school in China's southern Guangxi Zhuang autonomous region.
Another knife attack that same month saw three children killed and six people injured in a knife attack at a school in the central Hubei province.
In recent years, China has also seen a rise in the number of attacks on doctors and nurses by people who blame them for the deaths of relatives.