China media: Japan snap polls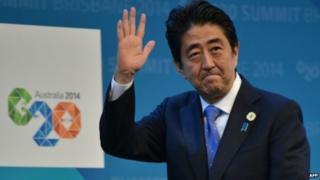 Papers criticise Japanese PM Shinzo Abe's decision to call snap elections, while mourning the death of a popular Japanese actor.
A Xinhua News agency article says Mr Abe's move has surprised Japan's opposition parties.
The article notes that issues likes Japan's economic slowdown and nuclear energy debate may have prompted Mr Abe to call an early election.
Several other media outlets, including the Beijing Times and the Beijing News, are more direct in their criticism and call Mr Abe an "unrestrained gambler".
"In the past two years, he has shown reckless behaviour in military, security… and diplomacy. His 'Abenomics' (economic reform) is lacking in logic and is only a decoration to cover up his own desire and that of the nationalistic forces around him," says the commentary in the Beijing Times.
The Beijing News predicts that regardless of the result, Japan's domestic politics will still be "gloomy".
Tributes to Takakura
In contrast to their sharp criticism of Mr Abe, papers are paying tribute to Japanese film star Ken Takakura.
The 83-year-old actor died last week of lymphoma, his office said on Tuesday. Takakura was popular in China in the 1970s and 80s.
Announcing the news of his death, the Xinhua News Agency says the actor's "iconic cool image exuded on screen and captured numerous hearts in China".
The China Daily describes him as a screen icon who "reshaped the image of a cool hero".
An article in the Chinese edition of the Global Times praises Takakura and other Japanese cultural icons for their "professionalism and sense of responsibility", saying that they were the bridge between the people of China and Japan.
"There is no other Japanese like Takakura. He was so influential in China. With his death, an era has come to an end. In recent years, China and Japan have drifting further apart, and both are moving into different eras," the article laments.
Meanwhile, some papers are reporting that police in Hong Kong have started to clear parts of a pro-democracy protest camp in the city.
Most papers have reprinted a brief report from the Xinhua News Agency, without commenting on the development.
An article in the overseas edition of the People's Daily, however, criticises protesters for delaying the clearance and attempting to "expand their international influence" by involving foreigners in their demonstrations.
Internet governance
Elsewhere, papers discuss China's role in shaping the future of internet governance as the World Internet Conference opens in Wuzhen, Zhejiang province in eastern China, on Wednesday.
The Beijing News notes that several local and international internet giants are attending the conference.
Experts interviewed by the daily say that China, which has the world's largest internet population, is fast developing its cyberspace technology, and it will "adopt an open attitude" to push for "internet governance".
The Southern Daily explains that "China has most internet users in the world and it is an important internet economy" and nobody can "ignore China's views" while devising internet regulations.
Echoing similar views, the Haiwai Net adds that China will implement "incredible" innovations to transform the internet.
And finally, papers are alarmed that "fake branded elevators" have made their way into several cities, raising safety concerns.
According to media reports, police in Hubei province, central China, have busted factories manufacturing "counterfeited lifts" that are mostly imitations of better known brands.
Officials found that more than 100 such elevators, worth more then 22 million yuan ($3.6m; £2.3m), have made their way to a number of provinces, reports say.
Worrying about the safety of the passengers, the Guangzhou Daily describes the products as a "time bomb", while the China National Radio wonders how these fake items managed to pass the authorities' stringent supervision.
Noting that many real estate developers purchase the "imitated elevators" to save cost, a commentary in the Hubei Daily criticises the government departments for failing their responsibilities to oversee safety procedures.
BBC Monitoring reports and analyses news from TV, radio, web and print media around the world. You can follow BBC Monitoring on Twitter and Facebook.