China Week: Summit season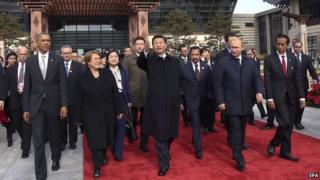 Sick of summitry?
If you are, spare a thought for China's leader Xi Jinping.
He's done little but shake hands, fix a smile, make speeches and inspect honour guards all week.
As he arrived in Brisbane for the G20 summit, you could forgive him for zoning out or heading to the beach.
But it's always more relaxing being at someone else's party than your own, especially if everyone at the party is telling you what a swell host you were.
And what's more, he moves from "Apec blue" skies in Beijing to G20 blue in Brisbane which means he doesn't have to watch cars and factories turn the Chinese capital's air to grey poison again.
During the boring bits of the G20 speeches, he could always reflect on his summit week of fireworks and family photographs. If he does, I think he'll conclude it went as well as he could have hoped for.
Successes President Xi will chalk up:
A new type of major power relations
Admittedly, US President Obama did not use President Xi's favourite foreign policy slogan.
His administration views it as a formula for hypnotising Washington into quiescence while China gradually dismantles US interests in Asia.
But to President Xi, "a new type of major power relations" means China can rise without inevitable conflict with the United States.
He mentioned the slogan wherever he could and so did China's state media. And he tried to inhabit his side of it. This is success number two.
Looking like the president of a major power
Nothing in Beijing's summit week was left to chance from the venue to the sky colour. And like a method actor, President Xi bestrode the summit stage as president of a would be superpower.
He is almost as tall as President Obama, he speaks confidently without notes to make the point that he is in charge, and he has a formidable first lady (A-list celebrity singer and PLA general) who as usual, wowed the home crowd with her regal bearing, poise and glamour.
Nor will it be lost on the Chinese public that President Obama went out of his way to give face to his host.
There were no attempts to talk over President Xi's head to the Chinese people direct, something which the Chinese leadership found distasteful during the town hall meeting of his last visit in 2009.
Washington now seems to have concluded that Xi Jinping is the only game in town and that working on the presidential rapport is central to a good US-China relationship.
The informal talks over dinner ran for five hours, a full two hours longer than scheduled.
These face issues are extremely important to a Chinese leader. But President Xi was not prepared to endure the charge that his summitry was all style and no substance. Hence success number three:
Behaving like a major power
Much has been said this week about what China's promise of a ceiling on carbon emissions by 2030 actually amounts to.
But what President Xi's joint announcement with President Obama did achieve was a first for the leaders of the world's existing and rival superpower. They shared a platform and had something to agree on.
Moreover for China, this was a hugely important new chapter in its own narrative, no longer evading global responsibility by pleading poverty and victimhood but jointly with the United States shouldering responsibility for something on which only they can lead.
And that's not all, when it comes to summit successes!
Before the US China summit, he had started the week by hosting APEC, the Asia Pacific regional forum. Which takes us to gratifying triumph number four:
That handshake
In the privacy of his own thoughts, no doubt Xi Jinping himself can acknowledge that this encounter was hardly courteous or hospitable but the meeting with Japanese Prime Minister Shinzo Abe did do exactly what President Xi intended.
It signalled the end of a diplomatic freeze with Tokyo that was beginning to cause serious damage to China's international interests.
And at the same time, it signalled to the Chinese audience that he took no personal pleasure in the episode and would do only the minimum necessary.
Fighting noisy tigers and flies
But now it's the weekend so it must be Brisbane.
In this travelling summit circus, President Xi may swim up disoriented from his reverie and feel reassured to see so many faces familiar from Beijing.
There across the table for example, President Putin, bromance buddy with whom he signed a huge new gas deal and watched the Beijing fireworks.
Just down the table, President Park of South Korea who defied American pressure and joined up to China's rival free trade initiative. Even that perennial fly in the summit ointment, the travelling American press corps, brings back gratifying memories.
While hardly classed as an old friend, The New York Times challenged President Xi about China's control of journalists in Wednesday's joint news conference with President Obama, and instead of being thrown, President Xi managed to appear simultaneously nonchalant and intimidating as he delivered this piece of homespun Chinese wisdom,
"Let he who tied the bell on the tiger, take it off."
By which he meant whoever creates the problem should sort it out, a warning to all those present not to publish the kind of stories about himself or about China that he doesn't like to read.
All in all, a summit of successes. The sky in Brisbane is blue and the long march to make Beijing's blue permanent doesn't start till Monday.