China media: Climate change pledge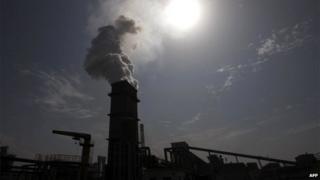 Papers welcome the US and China's pledges on tackling greenhouse gases, but warn against expecting dramatic cuts from Beijing.
China and the US on Wednesday agreed to set limits on greenhouse gas emissions after the leaders of the two countries met for talks in Beijing.
US President Barack Obama said the move was "historic", as he set a new goal of reducing US levels between 26%-28% by 2025, compared with 2005 levels.
China did not set a specific target, but said emissions would peak by 2030.
Noting that this is the first time both countries have reached an agreement on a world issue, the Chinese edition of the Global Times praises the "existence of a China-US joint leadership".
However, the papers subtly hints that China will not make any dramatic cuts despite pressures from the US and Europe.
"It is the basic right of the people to pursue a moderately comfortable life and improve their living standards. We need to balance many factors and move on step by step," it says.
Echoing similar views, a commentary in the Beijing Times welcomes the "shared responsibility" of tackling emissions but also reminds readers of the "differences" that still exist between the two countries.
It says that the US and other industrialised countries need to shoulder more responsibility because their longer-term actions have had an impact on the environment.
"It is unfair to highlight the emission level of recent years…It is also unfair that developing countries have to sacrifice their development to deal with climate change," it says.
Experts and analysts, however, are more optimistic about the pledges.
Describing China's commitment as "realistic", Lin Boqiang, an energy specialist at Xiamen University, tells the Global Times that Beijing "could even reach its goal around 2025 because the country's coal consumption is likely to peak by 2020 and that could mark a turning point in carbon emissions".
Tao Wenzhao, a researcher at the Chinese Academy of Social Sciences, tells the Beijing News that China's pledge to limit emissions will benefit the country and the environment.
"Everyone was happy to see the blue sky during the Apec summit… The public is now more concerned about issues of climate change, so they are willing to sacrifice the GDP for cleaner air and the blue," he says.
China-Asean ties
Meanwhile, papers also shine a spotlight on China-Asean relations, while noting a "quieter" Asean Summit held in Myanmar (also known as Burma) this year.
Chinese Premier Li Keqiang arrived in Nay Pyi Taw on Wednesday for a series of leaders' meetings on East Asia cooperation. The meetings come after the conclusion of the Asia Pacific Economic Co-operation (Apec) summit in Beijing on Tuesday.
A commentary in the Haiwai Net highlights the strategic importance of the Southeast Asia region for southern China's development.
The article says that Mr Li's trip will boost China's relations with the Asean (the Association of South East Asian Nations) countries. But it also reminds that the region is facing "sophisticated factors and challenges".
"The Asean should think about how to balance and co-ordinate its relationship with countries such as China, the US, Japan and India to reduce uncertainties caused by geopolitical issues," it says.   
Experts interviewed by the Beijing News say that the Asean nations and China can further co-operate to strengthen regional security.
Xu Liping, an expert on Southeast Asian affairs at the Chinese Academy of Social Sciences, says that China recently displayed its peaceful image during the Apec summit, and this should "clear the doubts of some Southeast Asian leaders towards Beijing".
"Vietnam and the Philippines are quieter this year as compared to their provocative behaviour displayed in the past Asean summits," notes The Paper.
Asean was set up in 1967 by Thailand, Indonesia, Malaysia, the Philippines and Singapore. Brunei joined in 1984, followed by Vietnam in 1995, Laos and Burma in 1997 and Cambodia in 1999.
'Lewd' content
And finally, "lewd" video clips advocating one-night stands and extramarital affairs will be banned from the internet in China, reports say.
According to local media reports, China's media regulator has asked internet content providers to remove programmes that depict extramarital affairs, one-night stands and sexual abuse.
The Global Times reports the move has sparked heated debates because many net users believe that "Chinese audience will have no films or dramas to watch" after this decision.
Tan Tian, a professor at Jinan University, cautions the authorities not to be "overly extreme" because such regulation "may hinder the creation of more excellent works".
BBC Monitoring reports and analyses news from TV, radio, web and print media around the world. You can follow BBC Monitoring on Twitter and Facebook.