China blocks US air pollution data as Apec leaders meet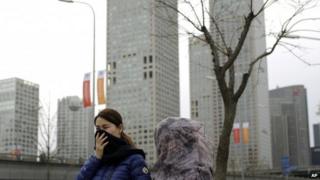 Chinese authorities have asked sites and apps which monitor air pollution in Beijing to stop using data provided by the US embassy, say media reports.
Beijing is currently hosting a high-profile gathering of world leaders from the Asia-Pacific bloc of countries.
In an attempt to have clearer skies for the summit, factories have been shut down and cars barred from the roads.
Many Beijingers use apps and sites to check pollution readings, including levels of dangerous PM2.5 particles.
The city, which is often engulfed in a thick blanket of haze reaching well beyond healthy levels, had clear blue skies for the days leading up the summit.
However on Monday as world leaders met for bilateral talks, our correspondents reported there was smog in the capital again.
Most apps and sites provide a daily reading from both the city government and the US embassy reading. The US reading is considered by many to be more reliable and often shows a higher pollution count.
Beijing-air.com posted a notice on its website saying it had "received instructions from authorities saying that this month's air quality readings will be based only on what is released by the Beijing environmental protection bureau".
Fresh-Ideas Studio, which is the developer of a popular pollution-tracking app, told AFP news agency that Beijing city officials had asked that US embassy data be removed.
'Priority of priorities'
The gathering of the Asia-Pacific Economic Co-operation (Apec) bloc of 21 nations along the Pacific Rim includes US President Barack Obama and Russian leader Vladimir Putin.
Ahead of the important event, Chinese authorities took measures to make sure the air would be clear.
Factories in and around Beijing were shut and car use was limited. Even the burning of clothes for diseased loved ones, a Chinese traditional practice to provide for them in afterlife, was banned for the days before, during and after Apec.
Vice Premier Zhang Gaoli had said prior to the event that cleaning up the air was the "priority of priorities", according to Chinese state-media agency Xinhua News.
On Monday in his opening remarks for Apec, Chinese leader Xi Jinping even acknowledged the air quality problems saying: "These days the first thing I do in the morning is to check the air quality in Beijing, hoping that the smog won't be too bad so that our distinguished guests will be more comfortable while you are here."
"My hope is that every day we will see a blue sky, green mountains and clear rivers," he added.
On Tuesday, the pollution levels were still 10 times higher than the level the World Health Organization recommends as safe over a 24-hour period.