In pictures: Beijing engulfed by heavy smog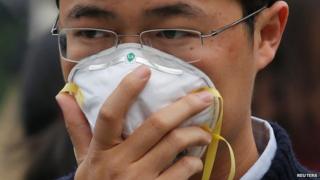 Heavy smog has once again engulfed northern Beijing - the worst bout since July, pushing pollution well past healthy levels and reducing visibility.
An orange alert has been issued in Beijing and in two other provinces, Tianjin and Hebei.
People across the Chinese capital have been donning smog masks, including staff at the BBC's Beijing bureau.
A yellow alert for air pollution was issued on Wednesday, and later extended.
The BBC's China editor Carrie Gracie (L) and Beijing online correspondent Celia Hatton (R) are wearing their smog masks - the stone lion is having a little more difficulty.
The worsening air quality is particularly hard on the elderly and those with respiratory conditions.
But hardy Beijing cyclists are undeterred - including BBC Beijing bureau editor Jo Floto.
Here's a cyclist with an even heavier mask.
Lily, Xinyan and Daisy from the BBC's Beijing bureau are masked up but not morose.
Clouds of smog have become a regular occurrence in China, caused partly by the use of coal to generate electricity. Transport and factory emissions are also to blame.
BBC Beijing producer Maria Byrne poses with her mask.
For many Beijing residents, donning a smog mask has become a routine necessity - the level of the most dangerous particulates, called PM2.5, reached nearly 20 times the maximum safe level on Thursday, the Beijing Municipal Environment Monitoring Centre said on its website.