Hong Kong protests hit uncharted territory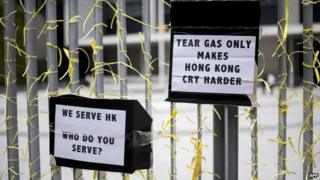 If this is going to end well, someone subtle is going to have to start shuttling between the street, Hong Kong's local leaders and Beijing.
But today is probably not the moment for that. Because with a public holiday on Wednesday for China's national day, I suspect we're going to see the demonstrators want to test their strength.
To what extent do they command the hearts and minds of Hong Kong's citizens? No one really knows because this has turned into a spontaneous expression of people power that is not taking orders from anywhere.
But this is not just about Hong Kong's 7.2 million citizens, it's also about China's 1.3 billion. The demonstrators say they want universal suffrage with "genuine choice". But the mainland is moving in the opposite direction, towards ever tighter one-party control.
In fact it's an exaggeration with a grain of truth to say that the mainland has "one man one vote" already, in the sense of one man, President Xi Jinping, and one vote, his.
No endgame?
When he considers his options in dealing with political defiance in Hong Kong, however, he will be only too aware that this is not Tibet or Xinjiang. There Beijing can close off scrutiny at will, but this is a global, connected city, and for hard-nosed business reasons if no other, Beijing needs it to stay that way.
Having discovered that strong-arm policing only brought more people out on the street on Sunday night, governments in Beijing and Hong Kong seem to have decided that their best hope is to leave the protesters under rain and sun, and try to bore and discomfort them into submission.
Beijing has done its best to prevent mainland citizens from seeing photographs of the extraordinary defiance in Hong Kong, but already there's chatter on China's social media about freedoms that others have but which they can never dream of.
If China starts to fear that people power in Hong Kong is going to inspire political protest inside China proper, it will become much harder for it to stay behind the scenes and insist that the government and police of Hong Kong are competent to deal with their own "political extremists".
So Hong Kong is now in uncharted territory and everyone involved is making it up as they go along. Perhaps there's an endgame which persuades the protesters to leave the street and doesn't leave Beijing losing face, but it's hard to see what such a compromise would look like.
Beijing does not believe in caving in. It will not meet the demonstrators' key demands for the resignation of the current chief CY Leung and the scrapping of the vetting rules for candidates in the 2017 leadership election.
It may offer a compromise on the make-up of the nominating committee for that election. But that's far from enough to satisfy the demonstrators.
All sides are watching and waiting to see how many thousands of Hong Kong's citizens are still prepared to take to the streets before deciding their next move.