China 'censors Hong Kong protest posts on social media'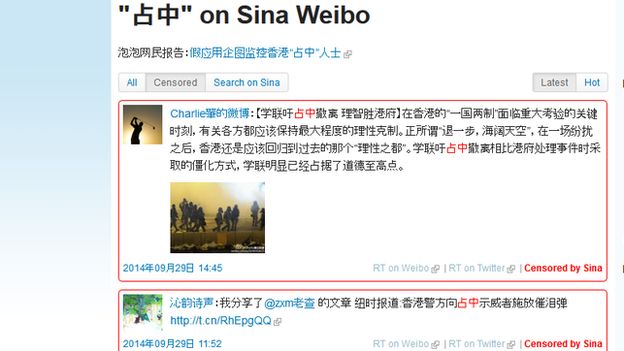 Chinese authorities appear to be censoring posts about the Hong Kong pro-democracy protests on social media.
Instagram has been banned in mainland China, while posts showing support for the protests were removed from Twitter-like service Weibo.
Meanwhile rallies are being planned across the globe to support Hong Kong's pro-democracy movement.
Protests in Hong Kong backing electoral reform escalated over the weekend. Thousands remain on the streets.
Chinese users of Instagram began noticing that they could not access the service early on Tuesday and took to social media to complain.
One user on Weibo said: "I woke up this morning. Instagram was banned. I asked my friends. The same thing happened to them. Can China be more twisted? Why ban Instagram on top of Facebook and Twitter? This system makes me speechless."
An Instagram spokesman told the BBC: "We are aware of reports and are looking into it."
On Weibo, posts with certain terms referring to the protests or Hong Kong in general were either being deleted or carefully policed.
The website Free Weibo, which monitors censored content, displayed hundreds of deleted posts that mention Hong Kong and Occupy Central, the pro-democracy movement that has since sparked multiple protests.
Only official news posts and criticism of the protests appear to show up on Weibo.
But comments left on the Weibo posts still visible show a more diverse range of opinions, with some expressing scepticism and others support.
"How could they think that they can push back the bottom line simply by protesting? They are just too naive," said one user.
"They are not against the central government's leadership. They just don't want the central government to interfere in their own politics," said another.
Several Chinese media outlets have criticised the protest, calling it an "illegal assembly". But they also sought to play down the demonstrations, with newspapers refraining from publishing photographs and details.
Reports on Hong Kong do not feature prominently on major news websites such as Xinhua and People's Daily, which are instead focusing on the forthcoming 65th anniversary of the founding of the People's Republic of China on Wednesday.
The Global Times newspaper published a commentary that had suggested military force could be used to quell the protests, which later appeared to have been pulled from its website.
The Hong Kong protests have triggered outpourings of support elsewhere, particularly in Taiwan which has remained independent since it was set up by Chinese nationalists in 1949.
Taiwan's President Ma Ying-jeou has backed the Hong Kong protests, saying: "We fully understand and support Hong Kong people in their call for full universal suffrage.
"We urge the mainland authorities to listen to the voice of Hong Kong people and use peaceful and cautious measures to handle these issues."
More than 100 young people from Taiwan and Hong Kong staged a protest in Taipei in support of Hong Kong's pro-democracy movement and criticising the Chinese government.
In Sydney, the facade of Hong Kong House was covered in messages of support while some turned up bearing signs calling for "true democracy" in Hong Kong.
Hundreds also signed a petition in support of those in Hong Kong, according to AFP news agency.
A Facebook page has been set up to detail numerous rallies being organised this week across the globe to support the protests.
These include gatherings in New Zealand, the United States, France, Canada, Singapore and Malaysia. In the UK, rallies are being planned for London, Edinburgh and Manchester.