China media: India relations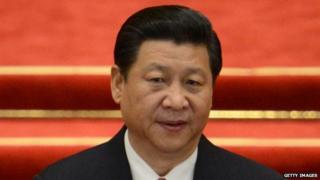 Newspapers urge Delhi and Beijing to form "closer ties" as President Xi Jinping visits India.
Mr Xi is likely to talk about trade, defence co-operation and border issues when he meets Indian Prime Minister Narendra Modi in the western city of Ahmadabad on Wednesday.
China is one of India's top trading partners, but the two countries disagree over the demarcation of several Himalayan border areas and fought a brief war in 1962.
Newspapers are mostly analysing the geo-political aspects of bilateral ties, while noting that major powers are also eyeing closer relationships with Delhi to deal with Beijing.
The Global Times appears to be rejecting India's close ties with Japan.
"Friendly Sino-Indian co-operation is of enormous strategic value for India and such a relationship can in no way be replaced by its bilateral ties with any other country," the paper says.
Assuring that China is not "seeking short-term gains", the paper points out that Beijing "has a long-term strategy to develop friendly co-operation with India".
"For us, the Sino-Indian relationship, with its own strategic merits, doesn't have to be associated with ties with other major powers. Rationality and vision dictate the development of bilateral ties," says the daily.
A commentary by Zhao Minghao, a researcher from independent think-tank Charhar Institute, suggests China "should have a clear understanding of India's independent foreign policy".
"The big countries (the US and Japan) are hoping to forge closer ties with Delhi as all have expectations from Indian PM Narendra Modi, who is strong, pragmatic and intelligent. No one wants to miss the opportunities that an ambitious New India is bringing," he writes in The Paper.
Noting that Delhi is unlikely to be a "chess piece in the game of containing one country with another", he points out that India will instead "focus on its own development and maintain its strategic independence".
"Mr Modi's ambitions and pragmatic attitude in building a New India will provide huge opportunities for mutual co-operation between Beijing and Delhi," he says. He, however, adds that border disputes and Mr Modi's "nationalistic inclination" may "add new pressures on China".
'Smooth as silk'
Sun Shihai, the president of the Association for South Asian Studies, tells the Beijing News that Mr Xi's visit to Gujarat, Mr Modi's hometown, will "deepen the personal relationship between the two leaders".
"The hometown visit coincides with Mr Modi's birthday. This could be seen as an arrangement with a deeper meaning," notes the pundit, adding that the private setting will "promote mutual understanding and trust".
In a separate article, the paper analyses Beijing's South Asia policy and describes Pakistan as China's "round-the-clock strategic partner" as both are co-operating closely in economic development and anti-terrorism efforts.
But it advocates closer ties with Delhi as Beijing balances its relations with other countries in South Asia.
And finally, a report in the Xinhua News Agency describes Mr Xi's South Asia trip "as smooth as silk".
"In the last leg of Xi's South Asia trip, he will visit India to exchange views on bilateral relations and strengthen co-operation. China and India must carry out more pragmatic co-operation to realise peace and tolerance, which will not only benefit people in the two countries but the world at large," it urges.
BBC Monitoring reports and analyses news from TV, radio, web and print media around the world. For more reports from BBC Monitoring, click here. You can follow BBC Monitoring on Twitter and Facebook.