China media: Economic reform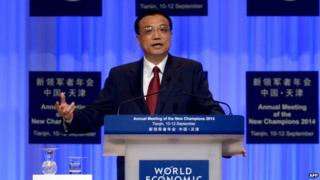 Media voice support for Premier Li Keqiang's pledge of more economic reform, amid concern over the pace of China's growth.
Speaking at the opening ceremony of the World Economic Forum in Tianjin on Wednesday, Mr Li said China would continue with its reform efforts and "use macroeconomic tools in the next four months to ease downward pressure" to ensure annual growth targets were achieved.
China's economy expanded by 7.4% in the first half of the year, close to the growth target of 7.5% for this year.
However the momentum failed to carry over into July, as industrial output, investment and retail sales softened, says a report in the China Daily.
Despite the slow-down, the paper's editorial points out that "China's economic strategy has become more comprehensive and balanced, featuring more specific targets" when compared with previous years.
Supporting Mr Li's pledge, the Beijing Youth Daily points out that that government-led economic growth has "prevented market innovation" and calls for "deeper reform" to change the situation.
"As a big country, China has to play a more important role in the global economy. Contributing to global economic growth is not enough, it has to maintain an advantage position in technology innovation, which is China's weakest link," it says.
The Economic Information daily praises the new leadership for "switching to an innovative way of thinking" that is more conducive for economic growth and has no "side effects".
Space dream
Meanwhile, some media outlets defend China's land reclamation work in disputed waters of the South China Sea.
The BBC reported that China was building new islands on five different reefs in the area. China's foreign ministry says its construction work is "totally justifiable" as it has "sovereignty" over the area.
"Given the construction materials and large-scale equipment, this UK media outlet claimed that China was turning the reef into 'an airbase'," the Global Times says, referring to the BBC's report.
"Manila and its Western supporters have a rather ludicrous logic that the Philippines and Vietnam can do anything on the Nansha Islands [Spratly Islands] and China can't take any countermeasures," it says, adding that both countries have "pushed China into a corner".
The paper warns the two countries against "instigating nationalistic sentiments among their populations" as they will "embarrass themselves" by doing that.
The Chinese edition of the paper recalls that US National Security Advisor Susan Rice, who visited Beijing earlier this week, stressed the importance of Beijing-Washington ties, and Mr Obama has described his upcoming Beijing trip in November as a "milestone".
"Why would the US shed blood for the Philippines and Vietnam? These two countries should clearly understand that they are only bargaining chips for Washington when it is dealing with Beijing," the editorial adds.
And finally, media report that China is set to launch its second space laboratory in two years' time and plans to finish the construction of its space station in 2022.
Yang Liwei, the deputy head of China's Manned Space Agency, made the announcement at the Association of Space Explorers (ASE) congress in Beijing on Wednesday.
According to the Global Times, several countries have already contacted Beijing about the possibility of space collaboration.
In a separate report in the Chinese edition of the paper, Mr Yang dismissed speculation that China was competing with the US in the space race.
The astronaut said China was "developing its space capability within its planned timeline" and did not want to challenge any country.
BBC Monitoring reports and analyses news from TV, radio, web and print media around the world. For more reports from BBC Monitoring, click here. You can follow BBC Monitoring on Twitter and Facebook.