What next for Hong Kong democracy activists?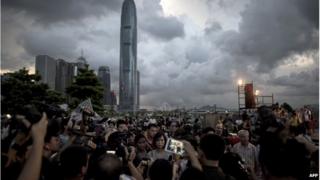 Beijing's ruling on how Hong Kong's leader should be chosen in 2017 has aroused feelings of anger, frustration and defiance from those who had been hoping for a genuine choice.
Everyone in Hong Kong will be allowed to vote. But all candidates must secure a simple majority of votes from a nominating committee, expected to be comprised mainly of pro-Beijing loyalists, in order to get onto the ballot.
The requirement makes it virtually impossible for someone who has not demonstrated fealty to Beijing to run in the election.
On Monday Li Fei, a senior Chinese official, defended the stance, saying it reduced the risk of political confrontation and populism.
Two leaders of a civil disobedience movement called Occupy Central, Chan Kin-man, a sociology professor, and Chu Yiu-ming, a Baptist minister, attended Mr Li's briefing.
"To put it bluntly, the whole thing is just 'handpicked politics' in the disguise of 'universal suffrage'. People simply will not be deceived," Mr Chan said afterwards.
Now, attention is turning to the civil disobedience campaign that Occupy Central has pledged to unleash in Hong Kong's financial district - and what it will mean for the territory.
The exact timing and details of the sit-in have not been announced, but some supporters have already begun to protest.
About 20 volunteers mobilised by the People Power party drove their vehicles slowly through the streets of the Central district on Monday in a rehearsal for the full event, which is expected to take place in late September or early October.
About 200 members of the University of Hong Kong Students' Union met for the first time this week to plan a boycott of classes. About a dozen major universities are expected to take part in the boycott, which is expected to start in mid September.
Some secondary school students are likely to participate, though their numbers will be far smaller.
Alex Chow, secretary general of the Hong Kong Federation of Students, said the boycott would be co-ordinated and would feature many public events, including street assemblies.
"It is not the same as simply skipping classes. When students are not in class, they will be learning outside the classroom. But they will also force society to look at the dangerous situation we are facing now," he said.
The goal, he said, would be to rally support for the democracy movement among the general public and to convince the Hong Kong government, which is due to announce a second public consultation on political reform, to push Chinese officials for greater concessions.
After the consultation, the government is expected to present an election plan to the Legislative Council, Hong Kong's parliament, for approval. It needs the support of more than two-thirds of lawmakers to pass.
Pro-democracy lawmakers hold 27 out of 70 seats in parliament. They have already promised to veto any proposal based on Beijing's stated requirements, which would make it impossible for the public to vote in the forthcoming chief executive election.
If this happens, then the next chief executive election is expected to proceed along the lines of the last one, when a 1,200-strong election committee chose the top leader.
Change 'unlikely'
Benny Tai, a law professor and founder of the Occupy Central movement, told BBC News that it was important to take a moral stand against an unfair election.
And Alex Chow, the student leader, said if the public kept quiet about Beijing's proposal, the central government could start to reject their views on less controversial topics such as city planning and economic development.
Both activists seem to place more emphasis on the long-term legacy of civil disobedience action, rather than immediate gains.
"There is still some hope to revoke Beijing's proposal, though this is very unlikely," Mr Chow admitted.
On Monday, Mr Tai was quoted by the Bloomberg news agency as saying public support for Occupy Central was waning.
But a few hours later, the campaign played down his comment, saying it was incorrect to suggest there was less community support.
"Although some pragmatic supporters may leave, new supporters are joining us because they are angry about the Chinese government's decision and are firm to show the dignity and willpower of Hongkongers," it said.
Split sentiment
Around the territory, meanwhile, some are watching the movement with worried, rather than supportive, eyes.
Hong Kong is deeply divided between those who demand free elections and those who do not wish to antagonise Beijing, which has supported the city's rise as an international financial centre.
Worries arose when Beijing abruptly decided in February to move a high-profile meeting of global finance ministers from Hong Kong to Beijing, in what was widely seen as a response to growing political tension in the territory.
Others believe the right to choose a leader at the ballot box, even if choices are restricted, is better than not having any say at all.
And some fear a lengthy protest could hit business and tourism hard, as well as potentially worsening ties with Beijing.
Several business groups, including the Hong Kong General Chamber of Commerce, the city's largest, have published newspaper advertisements criticising Occupy Central for not considering the damage they may inflict.
"Politics is part of community life here," Shirley Yuen, the chamber's chief executive, said in an interview.
"But when there is this threat that could potentially paralyse the Central business district, when there is a threat that political action, in fact civil disobedience movements, I would call it, is threatening to disrupt the normal business activity of Hong Kong, and with it, the livelihood of Hong Kong's workers and their families, then we feel we really should be speaking up."
The final push to occupy the Central district is likely to take place in late September or early October.
How the protesters conduct themselves, and how the authorities respond, may well determine the city's future.