China media: Vietnam ties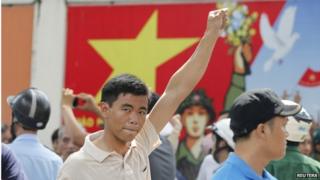 Media welcome Vietnam's efforts at "mending ties with China", as Hanoi sends a high-ranking official to Beijing.
Le Hong Anh, a senior member of the ruling Communist Party of Vietnam, started his two-day visit to China on Tuesday, state media outlets report.
Ties between the two countries have been tense due to territorial disputes in the South China Sea. Anti-China protests erupted in Vietnam in May after Beijing moved an oil rig into waters also claimed by Vietnam.
Most papers give prominent coverage to the visit. A Xinhua report, which has been republished by most state-run papers, says "Vietnam is striving hard to mend ties with China".
Pan Jin'e, an expert on Vietnamese studies at the Chinese Academy of Social Sciences, tells the China Daily that the visit shows "Vietnam wants to repair ties with China as Hanoi is trying hard to tackle challenges at home".
"Hanoi wants to ensure that top-level interactions are not interrupted because of some negative incidents. It knows that its domestic stability cannot be achieved without China's support, especially in an economic context," says the pundit.
Hong Kong-based Pro-Beijing Ta Kung Pao daily, however, points out that the trip shows that "both China and Vietnam are trying hard to mend ties".
Noting earlier reports about 60 Communist Party of Vietnam members' appeal to "abandon socialism" last month, the paper adds that Mr Le will also update Beijing on the party's internal affairs.
"Beijing is unlikely to ignore the news. It will also want to have a better idea on Vietnam's development and its attitude towards China," says the paper.
National security
Meanwhile, media and experts assess an official proposal to strengthen China's national security law.
The draft proposal seeks to rename the existing National Security Law as the "Counter-Espionage Law".
It was submitted to the bi-monthly session of the Standing Committee of the National People's Congress (NPC) on Monday, according to local media reports.
According to the proposal, foreign organisations and individuals who conduct espionage activities will receive harsher punishments. It also seeks to give more powers to the agencies like confiscating devices, money and other properties linked to suspected spying activities.
Minister of National Security Geng Huichang explains that the proposal has been made to standardise and strengthen China's anti-spy work as the country faces "new challenges".
He adds that the country's security agencies need better co-ordination and stronger support.
Li Wei, an anti-terrorism expert with the China Institute of Contemporary International Relations, tells the Global Times that China is "witnessing increasingly active espionage activities targeting the nation".
"China now faces the most complicated national security situation in its history. It is facing multiple challenges not only in traditional national security factors such as territory, but also in non-traditional factors such as energy and information security," he says.
And finally, a new law may make it mandatory for celebrities to use a product before deciding to endorse it.
According to local media reports, China's top legislature is reviewing a wide-ranging draft amendment to advertising laws.
The new law, which also aims to ban tobacco advertisements on public platforms and on the internet, will carry harsher penalties for giving false information about products and services.
Industry experts tell the daily that once the law is passed, public figures might face punishment if they recommend a product or service they have not used.
Law expert Zhang Mao tells the China National Radio the law will "ensure that celebrities bear legal responsibility in their endorsements".
BBC Monitoring reports and analyses news from TV, radio, web and print media around the world. For more reports from BBC Monitoring, click here. You can follow BBC Monitoring on Twitter and Facebook.