Rare acquittal for China murder convict on death row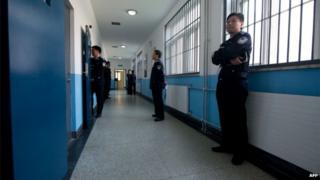 A man convicted of murdering two children has been acquitted by China's highest court, in a rare move.
The Fujian Supreme Court found there was insufficient evidence that Nian Bin, a grocery shop owner, had poisoned his fellow villagers with rat poison leading to the death of two children.
Mr Nian was on death row for more than six years and repeatedly appealed against his verdict.
Lawyers said he was tortured into confession.
The BBC's John Sudworth says the exact figure is not known, but China is believed to execute thousands of prisoners every year and successful appeals are rare.
Amnesty International said the case has highlighted "the ever present risk of executing innocent people" with the death penalty and the legal system's flaws.
"China's justice system is deeply flawed and more needs to be done to promptly address the failures of this case, including allegations of torture," said Anu Kultalahti, Amnesty's China researcher.
Mr Nian was accused of poisoning his neighbours in July 2006. Besides the two children who died, four others were injured.
Amnesty said Mr Nian, now aged 38, had made three appeals, undergone a supreme court review and three retrials which had been ordered due to insufficient evidence.
His case attracted prominent lawyers and wide attention in social media, reports the Associated Press.
In a statement sent to the BBC, Mr Nian's defence team said that during the lengthy retrial process, "it was very clear that all the evidence pointed to the fact that our client was not guilty".
They said that a video of Mr Nian's confession was missing at least one hour of footage.
"We hope that the country can address certain problems in our legal punishment processes highlighted by Nian Bin's case," they added.