China media: Vatican ties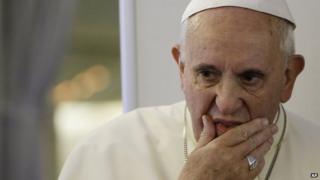 Media are cautiously optimistic over Beijing-Vatican ties after telegrams sent before and after Pope Francis's visit to South Korea.
Enroute to Rome, the Pope sent a telegram to President Xi Jinping as a follow-up to a message he had sent when he flew over China to South Korea last week.
The Vatican and Beijing have no formal ties, but the decision to let the Pope fly through Chinese airspace is being seen as a possible sign of warmth.
In response, China said it was willing to hold talks with the Vatican and push for improving bilateral ties, reports say.
Zhuo Xinping, director of the Institute of World Religions of the Chinese Academy of Social Sciences, tells the China Daily that the Pope's message "could be the start of improving ties between China and the Vatican".
He says that Pope Francis "has been active in improving bilateral relations between China and the Vatican since he was elected in March 2013".
Echoing similar views, Li Xiangping, a religious studies professor with East China Normal University in Shanghai, says that Pope Francis has "extended an olive branch to China with great kindness".
The pundit tells the Global Times that the Pope has "hinted at room for negotiation over the Vatican's stance on the appointment of bishops in China and China might want to consider a meeting".
China refuses to recognise the Vatican's authority over the Catholic community in China. The country exercises strict control on religious institutions, including selecting of bishops.
State-run China Net welcomes Pope Francis' "airspace diplomacy" and notes that "this is the first step to a better Beijing-Vatican relationship".
However, the article reminds readers that there are still unresolved issues between the two.
"Unless the Vatican cuts its diplomatic ties with Taiwan, discussion on Beijing-Vatican diplomacy will remain empty talks," it says, adding that the Vatican has been "interfering with China's internal affairs" which furthers deepens the divide between the two.
The article, however, points out that strengthening ties with the Vatican will "improve China's international image" as Beijing has been frequently criticised over its handling of religious matters.
'Mongrel' comments
Moving on to other news, media voice support for a proposal to cut hefty salaries of senior executives in state-owned enterprises (SOEs).
Xi Jinping has pledged to adjust and regulate "unreasonably high incomes" at the SOEs to "make salary levels appropriate", says the Xinhua News Agency.
According to the agency, the average annual salary of these executives range from 650,000 (£63,692;$105,691) to 700,000 yuan excluding allowances.
Welcoming the proposed review, the Southern Metropolis Daily states that regulating the income of top-level executives in SOEs is the "first step towards reforms" of these enterprises.
And finally, some media outlets criticise Australian lawmaker Clive Palmer for his "inflammatory remarks" against China.
The politician, who is also a mining magnate, on Monday commented on a TV programme that the Chinese government behaved like "mongrels".
"This is the most vicious attack by one of the Australian elite in recent months," notes the Global Times.
"China cannot let him off, or show petty kindness just because the Australian government has condemned him. China must be aware that Mr Palmer's comments serve as a symbol that Australian society has an unfriendly attitude towards China," it lambasts.
The nationalist paper suggests China "teach Australia a lesson" by imposing sanctions on Mr Palmer, his companies and business affiliates.
Mr Palmer has since clarified that his comments were not targeted at the Chinese government or the community, but related to a legal dispute with a Chinese company.
BBC Monitoring reports and analyses news from TV, radio, web and print media around the world. For more reports from BBC Monitoring, click here. You can follow BBC Monitoring on Twitter and Facebook.