China media: Australia-US ties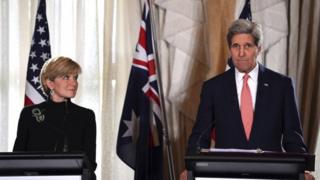 Media dismiss Washington's assurance that a new US-Australia military deal is not targeted at China.
Washington and Canberra have signed a deal on the rotating US military presence in Darwin, which is set to rise from the current 1,150 US Marines to 2,500 by 2017.
US Secretary of State John Kerry said the move was not targeted at China because Washington did not want "conflict and confrontation" with Beijing.
Criticising the deal, an article in Haiwai Net concludes that the US-Australia military collaboration is "the latest effort to deal with China's rise".
"Canberra would like to balance Beijing's increasing influence in Asia-Pacific. In recent years, Australia has felt uncomfortable with China's closer ties with countries in the southern Pacific region," it says, adding that Australia is seeking to regain its influence by strengthening its alliance with the US.
Shi Yinhong, a professor at Renmin University, adds that Australia has been "actively forging close ties with the US and Japan" because it fears that "China's military build-up affects its own security".
"Therefore, Australia is hoping to strengthen its military with help from Washington, which has also been pushing for greater co-operation," says the pundit.
Meanwhile, several state-media outlets lash out at President Barack Obama over his comments that China "has been a free-rider for 30 years".
In an interview with a US media outlet last week, Mr Obama expressed frustration that China does not take more international responsibility.
The People's Daily criticises Mr Obama and defends China's non-interference policy in Iraq.
The US has been carrying out air strikes against fighters from militant group Islamic State (IS) in Iraq. IS fighters have forced tens of thousands to flee their homes in several cities.
A commentary in the paper points out that Mr Obama "boasted" about Washington's Iraq policy, but it has "failed once again" in the Middle Eastern country.
"His 'free-rider' comment will not divert the attention of the international community from the situation in Iraq," it says.
The paper recalls that China opposed "Washington's unilateral war plan in Iraq" more than a decade ago.
"China has positively contributed to the reconstruction of Iraq to benefit the people there… When Western enterprises are evacuating from the war-torn country, Chinese companies are entering without any fear," it says.
"It is obvious that the US is an invader and a deserter, while China has all along played a co-operative and constructive role," it adds.
Several experts interviewed by the paper echo similar sentiments and blame Washington for "creating a mess in Iraq".
Jin Canrong, an expert on international affairs from Renmin University, says that the US has to shoulder responsibility in Iraq as "China has never interfered in the country".
Anti-monopoly probe
And finally, media continue to discuss China's anti-monopoly probe against several foreign companies.
Several papers have noted concerns in foreign media outlets that the authorities are specifically targeting international businesses operating in China.
The China Daily says that China is investigating both foreign and domestic businesses.
According to the paper, over 1,000 Chinese and overseas companies in the auto industry, including manufacturers, suppliers and dealers, are being investigated under the country's anti-monopoly laws.
The paper quotes an unnamed official as saying that the investigations "are not aimed at any specific type of industry or a specific country".
"Investigations in many industries started with domestic companies and then spread to foreign companies," the source is quoted as saying.
On a stronger note, Ding Yifan, a researcher with the China Academy of Governance, tells the Global Times' Chinese edition that "foreign companies are free to leave if they think that China does not treat them well".
BBC Monitoring reports and analyses news from TV, radio, web and print media around the world. For more reports from BBC Monitoring, click here. You can follow BBC Monitoring on Twitter and Facebook.