China media: Territorial disputes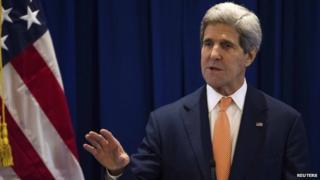 Media and experts criticise Washington for interfering in China's territorial matters as the US calls for a "freeze" on "provocative actions" in the South China Sea.
US Secretary of State John Kerry has urged China and other South East Asian to ensure maritime safety in the contested waters.
Mr Kerry made the appeal at the East Asia Summit held in Myanmar (also known as Burma) over the weekend.
The Philippines, Brunei, Malaysia, Vietnam and Taiwan all have overlapping claims with China in the South China Sea
China's Foreign Minister Wang Yi has dismissed his proposal, restating Beijing's position on protecting its sovereignty in the disputed waters.
Analyst Chen Bing tells Shenzhen Satellite TV that China has sent a strong signal that Beijing will not weaken its stance just because the US has decided to interfere.
"There is a concrete strategy behind every word that Beijing says on the issue of the South China Sea dispute. But Washington can only talk big without having any specific strategy. The US can't even explain clearly what the proposed freeze is about," he adds.
Jia Xiudong, a researcher with the China Institute of International Studies, slams Washington for putting Beijing in a "difficult position".
"The proposal was put up in the name of maintaining peace and stability in the South China sea, but the US is actually trying to interfere to sow discord between China and Asean countries," he writes in the Haiwai Net.
Ruan Zongze, deputy director at the China Institute of International Studies, tells the Global Times that "the US is using the issue as an instrument to facilitate its pivot to Asia".
Historic TV series
Moving on to other news, papers praise Beijing's contribution in the global fight against Ebola.
The Chinese government has decided to provide 30 million yuan (£2.89m;$4.86m) in humanitarian aid to Guinea, Liberia, Nigeria and Sierra Leone.
The Ebola outbreak - the worst-ever - is centred on four West African countries, but has spread to other countries in recent months.
An article from Xinhua News agency comments on "China's strength in fighting Ebola". It notes that China is "happy to help others in difficult times".
"China's contribution in the fight against disasters have gained the world's attention… The whole world needs to deal with the disease together. In the fight against Ebola, China is taking action," it says.
A commentary in the People's Daily recalls China sent a medical team during the initial stage of the Ebola outbreak.
"Some countries promised to help Africa fight the disease, but they evacuated their doctors and diplomats as soon as possible. In contrast to these countries, China has been widely praised for its humanitarian aid," says the article.
And finally, a television series telling the story of Deng Xiaoping and his leadership between 1976 and 1984 has gained public attention.
According to experts, the drama will give a renewed perspective on history by featuring "sensitive figures" such as former Party leaders Hua Guofeng and Hu Yaobang.
Experts interviewed by the Global Times add that Mr Deng's "legacy and influence matter even today" as President Xi Jinping's anti-graft campaign is "inherited from Mr Deng's philosophy".
"The 'Chinese dream' put forth by President Xi Jinping is a step forward from Mr Deng's reform idea that was aimed at improving China's economy to provide better living standards to citizens," Cai Zhiqiang, a professor with the Party School of the Communist Party of China Central Committee, says.
BBC Monitoring reports and analyses news from TV, radio, web and print media around the world. For more reports from BBC Monitoring, click here. You can follow BBC Monitoring on Twitter and Facebook.