China media: Anger at Obama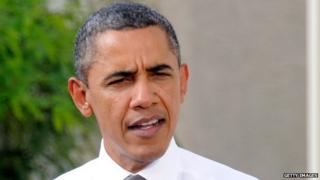 Media respond angrily to US President Barack Obama's recent remarks on China and analyse US-Africa ties.
In an interview with the Economist magazine, Mr Obama argued that the West needs to be "pretty firm" with China, as Beijing will "push as hard as they can until they meet resistance".
The state-run China News website reacts to his words by saying that the American president is "venting his displeasure with US-China ties" by stating views that are "emotional" and lack a new perspective.
"We can see that Chinese affairs are occupying a very important place in the mind of the current US president. Mr Obama has spent more time and energy dealing with China's affairs than any of his predecessors," the article notes.
According to China News, the US leader is unable to explain Washington's policy towards Beijing in an "accurate and logical manner".
"His way of expression has reflected the loss of confidence and helplessness. This shows that the Obama administration is in a state of confusion, which also shows that the US is losing its grip on world affairs," it comments.
Echoing a similar sentiment, the Global Times criticises Mr Obama for "clinging" to an "outdated Cold War mindset" and not making "constructive contributions to China-US relations".
"He hasn't shown much belligerence towards China and Russia since he took office, but apparently, he lacks strategic insight and the power to control his government and to be a good decision-maker. His position is always ambiguous and easily misguided by emergency issues," remarks the paper.
US-Africa summit
Meanwhile, media are also focusing on US-Africa relations as a three-day summit to strengthen ties with the continent is held in Washington.
The meeting, which started on Monday, is attended by some 50 African leaders. The US is expected to announce nearly $1bn in business deals and will also increase funding for peacekeeping operations and aid programmes.
Commenting on the summit, Chinese new website the Observer notes that the US "is trying to expand its influence in Africa" while criticising Beijing for investing in the continent.
Supporting the view, the Liberation Daily adds that the US is "rushing" to sign major contracts with African countries for fear of losing out to China.
The Sina website, however, thinks that Mr Obama has "started to change his parenting and lecturing style" when dealing with Africa and is now focusing on trade and investment issues instead.
"To some extent, the US has been forced to adopt a new direction. China has helped to rewrite the rules of the game. It has been pursuing the market and resources in a positive manner and has given out loans and assistance to African countries without preconditions," Sina says, adding that the Chinese government has made a good impression on African leaders.
Yunnan quake
Moving on to other news, media are calling for better preventive measures to minimise casualties and damage in the wake of the massive earthquake in Yunnan.
The strong tremors that shook the southwest province on Sunday killed at least 398 people and destroyed more than 12,000 homes.
Mourning the loss of human life, newspapers say that local authorities are not using the early warning system for earthquakes efficiently.
"We have an advanced earthquake early-warning technology but it is a pity that it is not being utilised as only a few [government] units have access to it," notes Beijing News.
According to another report in the same paper, only 26 schools in Yunnan and Sichuan provinces received the early warning.
The Chinese edition of the Global Times calls for the construction of more earthquake-resistant buildings.
"Yunnan province is an area that is prone to earthquakes. Houses there should be built with this in mind, but it is not happening because rural areas are economically less developed," notes the paper.
BBC Monitoring reports and analyses news from TV, radio, web and print media around the world. For more reports from BBC Monitoring, click here. You can follow BBC Monitoring on Twitter and Facebook.