China media: Yunnan quake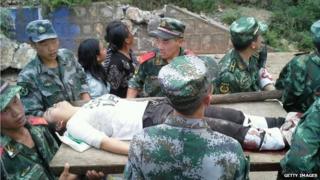 Media are reporting extensively on the earthquake that struck the southwest Chinese province of Yunnan on Sunday, killing more than 380 people.
The massive tremors destroyed more than 12,000 houses, leaving tens of thousands of people stuck in places yet to be reached by authorities, reports say.
President Xi Jinping has called for an "all-out effort" to find survivors as he dispatched hundreds of soldiers to the area.
According to the Beijing Times, the rescue operation is being conducted in an organised way. It notes that after the quake hit Yunnan, all relevant departments were urgently mobilised.
"Instructions and a speedy reaction from the central government have made a huge impact on the disaster relief effort," says the daily.
State-run Xinhua news agency also speaks of a "speedy response", adding that "resources from everywhere are being dispatched to the affected areas" as "saving lives is the most important task".
However, another Xinhua report points out that there is a lack of professional rescue workers and not enough facilities and resources. It adds that bad road conditions are also hampering the rescue operation.
Experts tell the Beijing News that the houses in the region are mostly mud buildings that are not quake-resistant and the damage is expected to be "very serious".
Meanwhile, media discuss the responsibility of local governments after a factory exploded on Saturday in Kunshan, a city in the eastern province of Jiangsu .
Officials say that a metal dust explosion was probably to blame for the blast at the plant, which makes car parts. State media report that the death toll from the explosion has now risen to 75 and that more than 180 other people were injured.
The People's Daily calls for better safety measures and precautions as well as for "stronger responsibility and regulations" to prevent similar tragedies from taking place in the future.
"Did proper work-safety procedures merely exist in slogan-like documents and phone conversations but were never really followed in real life?… Did the enterprises pretend to comply with the regulations only to go against them in secret?" the state-run paper asks.
The Beijing Youth Daily also criticises local governments for "chasing GDP growth but disregarding the safety of workers".
Noting that Kunshan is a successful business model for other cities, the Beijing News warns that local governments must strengthen their role in protecting the lives and health of workers.
"It is undeniable that Kunshan is very successful in attracting investment but such success has also led to abolishing the role of the government. There is bound to be a conflict… if authorities keep on catering to the needs of companies," the paper says, adding that measures are needed to reform the relationship between local governments and the market.
Fighting 'terrorism'
Efforts by the government to fight what it says are terrorists are back in the media spotlight after reports of another deadly incident in the restive Chinese region of Xinjiang on 28 July.
Authorities said that 37 civilians were murdered by a gang in Xinjiang, with 59 attackers killed by security forces. More than 200 assailants armed with knives and axes were also arrested after they stormed a police station and government offices.
However, a Uighur rights group says police opened fire on people protesting against a Ramadan crackdown on Muslims.
"The scale of the incident is the largest in recent years in terms of the number of terrorists arrested. It shows that the conflicts between anti-terrorism forces and terrorists are becoming more fierce and confrontational as terrorists grew increasingly desperate," Pan Zhiping, an expert at the Xinjiang Academy of Social Sciences, tells the Global Times.
Media have been calling for heavy-handed measures in fighting extremism, but the China Daily points out that an "iron hand" is insufficient "to root out this evil".
"59 terrorists being shot dead by armed police can be interpreted as a manifestation of our attitude toward terrorism that is an enemy of us all… What is urgently needed is the development of the local economy, which will substantially improve the living standards of local people," says the paper.
BBC Monitoring reports and analyses news from TV, radio, web and print media around the world. For more reports from BBC Monitoring, click here. You can follow BBC Monitoring on Twitter and Facebook.