'Nine militants killed' in violence in China's Xinjiang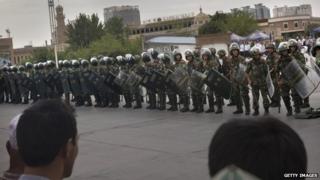 Nine militants have been shot dead by police and one captured in the restive Chinese region of Xinjiang, the Xinhua news agency has reported.
It quoted officials as saying that the violence took place in the south of the autonomous region as police were chasing "a terrorist group".
Xinjiang, in China's far west, is home to the Muslim Uighur minority.
Uighurs have been unhappy for years over large-scale Han Chinese migration and tight Chinese control of Xinjiang.
In recent months, however, there has been a marked increase in violence in the region, including the killing of a pro-government imam from the country's largest mosque in Kashgar on Wednesday.
State media earlier on Friday said that police had shot dead two suspects and captured another.
There were also clashes on Monday in Shache county - about 200km (125 miles) from Kashgar - between militants armed with knives and axes and the security forces. Dozens were reported to have been killed or injured.
'Terror gang'
Xinhua said that the violence on Friday happened in a rural area close to Hotan city, in the far south of Xinjiang. There is no independent corroboration of this version of events.
The news agency said that more than 30,000 civilians were taking part in a counter-terror operation with police when officers received a tip-off about the presence of a "terror gang" - a term used by the authorities to describe Islamist militants - in a corn field.
"Police and the 30,000 civilians in unison surrounded the terror gang, and forced them into an abandoned house," Reuters quoted the Xinhua report as saying.
Xinhua said that the militants threw explosive devices at police and at civilians, before police "took decisive action" and shot and killed the attackers.
China blames the violence on extremists inspired by overseas terror groups. Uighur activists say heavy-handed restrictions on religious and cultural freedoms are fuelling local resentment.