China media: Cuba ties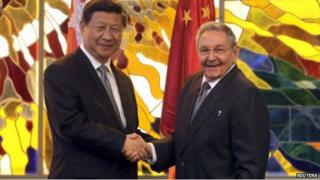 Media analyse China-Cuba relations as President Xi Jinping "seeks closer ties" with the Latin American country.
State-run Xinhua news agency reports that Mr Xi visited Cuban revolutionary leader Fidel Castro at his residence on Tuesday.
"The two exchanged views on bilateral ties, international affairs and other issues of common concern in an intimate and friendly atmosphere," says the report.
The Beijing Times notes that besides "visiting old friends", Mr Xi also discussed economic co-operation with his counterpart Raul Castro in areas including trade, agriculture, biotechnology and education.
The China Central Television adds that Mr Xi's trip to Cuba is "more about business than politics" as China is seeking to expand investment in the country.
Zhang Tuo, China's ambassador to Cuba, tells the CCTV that the Mr Xi's visit will "open a new phase in bilateral ties".
"Cuba paid great importance to President Xi's visit with an unprecedented reception. Both China and Cuba are expecting Mr Xi's visit to translate the two countries' good political relations into fruitful achievements in various fields," he says.
The Global Times' Chinese edition says Cubans are "hoping that China will help the country to lift the US economic embargo", which was imposed in the 1960s against the Cuban Communist regime.
A Xinhua commentary urges the US to "rethink its Cuba policy". Calling for Washington to lift its sanctions, the article points out that China has been a "rising key foreign investor in Cuba" and has granted economic assistance to the country.
"Instead of being an obstacle on Cuba's path of development, the United States should join China and other countries to become Cuba's constructive partner," it says.
International responsibility
Elsewhere, media discuss China's "increased international responsibility" after the downing of a Malaysia Airlines plane over Ukraine last week.
Wang Yiwei, a professor with Renmin University, writes that as the "conflict" between Russia and the West escalates, China's international responsibility will become more important.
An article in the Hexun website states that Russia will be "demonised by the West again".
"Moscow's strategic space in the international arena will shrink… It will continue to look to the East for survival. In such a scenario, China-Russia relations will move forward and its strategic need will allow China to show off its muscles on the world stage," it says.
And finally, reports say 12 airports in eastern China will be affected by military drills that will last for 26 days.
According to reports, the exercise, which takes place between 20 July and 15 August, will cause flight delays in some of the busiest airports including Shanghai Pudong Airport.
Reports add that authorities have urged airlines to cut 25% of their flights to the affected airports. However, no further details of the drills have been given.
Shanghai-based military affairs commentator Ni Lexiong tells the South China Morning Post that the "large-scale military drills centred on the east of the country were needed because it would probably be the first target of any foreign forces attacking China".
A commentary in the Global Times' Chinese edition praises the authorities for "taking the initiative" to warn the public about the flight delays. It describes the official announcement as "a signal of having more transparency".
BBC Monitoring reports and analyses news from TV, radio, web and print media around the world. For more reports from BBC Monitoring, click here. You can follow BBC Monitoring on Twitter and Facebook.