US man sentenced for selling DuPont secrets to China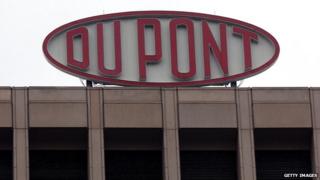 A US man convicted of stealing trade secrets and selling them to a Chinese state-owned company has been sentenced to 15 years in prison.
A California judge also fined businessman Walter Liew, 56, more than $28m (£16m) for the crime.
Liew and scientist Robert Maegerle were convicted in March of stealing US firm DuPont's secret method of making product whitener titanium dioxide.
The men then sold the trade secrets to China's Pangang Group.
"There are many things I would have liked to have done differently," Liew told the court on Thursday. "I regret my actions."
Judge Jeffrey White said the naturalised citizen had "turned against his adopted country over greed" in the economic-espionage case.
Secret recipe
Liew and his wife, Christina, started USA Performance Technology Inc in the 1990s and hired a team of ex-DuPont employees to steal DuPont's titanium dioxide trade secrets.
Liew and Maegerle then sold DuPont's secret recipe to Pangang Group for more than $20m (£12m).
Two other scientists were also linked with the case - one committed suicide, the other admitted conspiracy to commit economic espionage.
Prosecutors also charged Pangang Group, but were stymied after a US judge ruled that prosecutors' attempts to notify Pangang of the charges were legally insufficient.
USA Performance Inc was also fined nearly $19m in addition to the $28m Liew was ordered to pay DuPont.
But on Thursday Judge White expressed doubt Liew would ever pay back much of the debt against him.
"We'll never get it... It has been spirited out of the country," he said, noting US authorities had traced much of the money received by Liew to several Singapore and Chinese companies controlled by his in-laws.
Meanwhile, Maegerle awaits sentencing and remains free on bail. Liew's wife has pleaded not guilty to charges including obstruction of justice.