China media: Japan's military move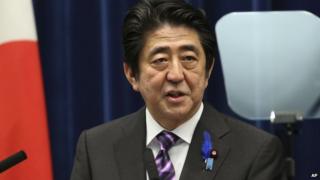 Media say Japan has approved a landmark change in its security policy "to contain" China's influence in the region.
Under its post-war constitution, Japan is barred from using force to resolve conflicts except in cases of self-defence.
However, Japan's decision to allow a reinterpretation of the constitution will now pave the way for its military to use force to defend allies under attack.
In a scathing tone, the Global Times' Chinese edition says the Japanese military "can start going overseas for its killing spree again".
It states that though Japan may not exercise the right of collective self-defence in the near future, "it is hard to say what will happen in a few years' time".
"The US is trying to contain China by making use of Japan, which provided a 'strategic breakthrough' opportunity for [Japan PM] Shinzo Abe's government," it says.
It explains that "as long as China continues to rise in power, the US will deploy more forces in Asia and mobilise Japan to participate".
Echoing similar sentiments, the China Daily further notes that Mr Abe wants Japan to become a "normal" country by pursuing the amendment.
"But he ignores why his country and its military have been deprived of this 'normalcy'. The recalcitrant attempts by Japanese politicians, including [Mr] Abe, to rewrite the history and their country's unseemly record in World War II are reminders that Japan doesn't deserve being treated as a normal country," it adds.
A commentary in the People's Daily points out that the Abe administration is "exaggerating China's threat".
"Nobody can deny the fact that China is working hard to bring real opportunities for the world by pursuing peace and speedy development. Japan is trying to deceive others by creating the China threat theory," it says.
'Blessings' for Hong Kong
Elsewhere, some media outlets in China remind Hong Kong of the "blessings" it enjoys under the central government.
Crowds took part in an annual rally on Tuesday to mark the day Hong Kong was returned to China in 1997. The organisers of the rally say they are seeking full electoral freedom.
Making no mention of the rally, the overseas edition of the People's Daily says "more and more Hong Kongers" now realise that Hong Kong's stability "is a blessing for them."
"The central government will fully support the prosperous development of Hong Kong to protect the blessings of the people," it quotes a pro-Beijing Hong Kong paper as saying.
Commenting on the rally, the Global Times' Chinese edition warns the protesters that "the country will not give way" despite the march.
The China Daily adds that Hong Kong's achievements provide "firm evidence of the success" of the "one country, two systems" approach.
"Citizens have continued to enjoy rights and freedoms since the handover as demonstrated by the mass rallies held on Tuesday and on numerous other occasions... This wasn't imaginable under colonial rule," it says.
And finally, media also discuss China-South Korea ties as President Xi Jinping prepares for his trip to Seoul on Thursday.
The Beijing News notes that this is the first time Mr Xi will go on a one-country trip after becoming China's president.
Experts say he will mainly discuss bilateral trade and "regional topics" with his counterpart in Seoul.
BBC Monitoring reports and analyses news from TV, radio, web and print media around the world. For more reports from BBC Monitoring, click here. You can follow BBC Monitoring on Twitter and Facebook.