China corruption: Communist Party's Su Rong sacked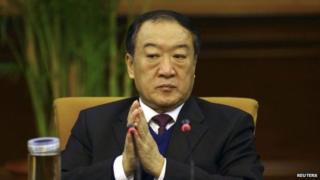 China's most senior serving politician to be investigated for corruption since President Xi Jinping took power has been sacked.
Su Rong was removed from his post as a vice-chairman of China's parliamentary advisory body, state media said.
He was previously the top Communist Party official in Jiangxi province.
Tens of thousands of officials have been arrested since Mr Xi began an anti-corruption campaign in 2012.
A central government audit recently uncovered 314 serious disciplinary violations, up from 175 serious cases revealed the year before, the BBC's Celia Hatton in Beijing reports.
Su Rong's removal from his position without any detailed explanation of his alleged crimes has been swift, our correspondent notes.
China's corruption investigation unit announced that he was under investigation for disciplinary violations less than two weeks ago.
Such announcements are usually followed by legal proceedings.