China court overturns death sentence for abuse victim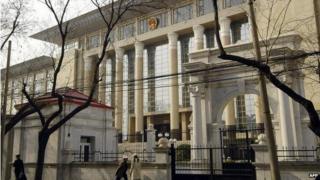 The Supreme Court in China has overturned the death sentence against a woman who killed her husband after months of domestic abuse.
The brother of Li Yan told reporters that her case was being reheard.
Li Yan beat her husband Tan Yong to death in 2010 in a high-profile case that elicited much public sympathy.
Shortly after they married in 2009, Tan began beating and kicking Li. He also stubbed out cigarette butts on her face and chopped off part of a finger.
Li Yan, 43, had complained about the abuse to local police and community officials, but no action was taken.
In November 2010 the Sichuan native killed her husband during a fight, hitting him with the butt of an air rifle that, Li's lawyer says, Mr Tan had threatened to shoot her with, and dismembered his body.
She was caught after a friend she confided in tipped off the police.
Evidence of her abuse was presented in court. But the courts ruled that it was not enough to prove that she was a victim of domestic violence, and sentenced her to death in 2011.
Li Yan appealed against the death sentence on self-defence grounds, but the appeal was rejected by the Sichuan high court.
Amnesty International as well as lawyers, scholars and non-governmental groups sent in petitions calling on the courts to reconsider.
---
Analysis: Yuwen Wu, BBC Chinese
Death sentences are normally carried out within a week of a Supreme Court decision in China. So when the media reported in January 2013 that the green light had been given for Li Yan to be executed, hundreds of lawyers, activists and others raced to petition the authorities on her behalf.
They asked for her claims of domestic abuse to be investigated. They argued that the law had to take into consideration not only the way Tan Yong (Li Yan's husband) had been killed, but also the strong evidence of domestic abuse. Sentencing, they said, should be appropriate to the crime.
Since taking over the right to review and approve all death sentences in 2007, the Supreme Court has overturned many cases including fraud and rape, but it is quite rare for a death sentence involving murder to be overturned.
The move has been welcomed by human rights groups, and marks another step in China's efforts to reduce crimes punishable by death, and towards a more rational approach to the death sentence itself. Li Yan now faces a retrial in Sichuan.
---
The South China Morning Post quoted legal rights group Duihua Foundation as saying only 10-20% of death sentences have been reversed since the Supreme Court began reviewing such sentences in 2007.
Amnesty hailed the decision as "the right course of action" and is urging China to not impose the death sentence in the retrial.
"Li's case has shone a spotlight on the need for the Chinese authorities to do more to prevent violence against women. They are obliged to properly investigate all such claims of abuse and prosecute those responsible," said Amnesty's China researcher William Nee.