China media: 'Anti-terror' campaign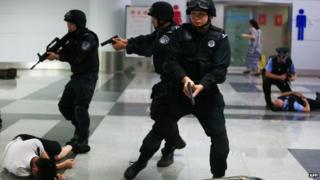 China's "fight against terrorism" is back in the spotlight as authorities intensify efforts to crack down on "terror gangs".
According to Xinhua news agency, the authorities have busted 32 gangs and arrested over 380 terror suspects in the first month of a one-year anti-terrorism campaign which started on 23 May.
Local courts in China's restive western province of Xinjiang have recently convicted 315 people over different cases involving terror attacks, religious extremism, manufacturing of guns and explosives, spreading of terrorist propaganda and illegally crossing international borders, the report adds.
Chinese authorities blame "terrorists" and separatists with overseas backing for violent unrest in Xinjiang. Exiled Uighur groups say Beijing's heavy-handed rule is fuelling ethnic tensions.
The Xinjiang Daily reports that most terror gangs in Xinjiang have been "nipped in the bud before they could carry out strikes".
"For a long time, the Xinjiang public security of all levels have placed strong emphasis to crack down on illegal violent terrorist activities... About 96% of the terror gangs have been struck before they could even act," it says.
Li Wei, an anti-terrorism expert with the China Institute of Contemporary International Relations, tells China Central Television that the young people involved in the acts had been "brainwashed" by "underground religious teaching" that spreads religious extremism.
He adds that it is "necessary to fight terrorism with heavy-handedness" as well as with preventive measures like compulsory education for children.
Echoing similar sentiments, Turgunjan Tursun, a research fellow at the Xinjiang Academy of Social Sciences, says that China's anti-terrorism efforts have become "increasingly difficult" because of the "unorthodox nature of Xinjiang's terror groups".
"Most terrorists in Xinjiang do not operate under structured and centralised organisations, but in small gangs loosely spread across the region," he tells the Global Times.
He adds that China still lacks capacity in intelligence collection and professional research in its anti-terrorism efforts.
Taiwan ties
Elsewhere, media discuss cross-strait ties as the chief of the mainland's Taiwan Affairs Office, Zhang Zhijun, prepares for his four-day trip to Taiwan.
Reports say that Mr Zhang will meet his Taiwan counterpart Wang Yu-chi. He is also expected to meet "ordinary people" and "listen" to them during his visit which starts on Wednesday.
Zhu Weidong, Taiwan affairs expert with the Chinese Academy of Social Sciences, tells the China News Service that the meeting will "open a new chapter in cross-strait ties", but states that it is unlikely that any new agreements will be signed during the trip.
"Mr Zhang does not need to carry out too many missions. He is there to look around and to observe. It is just like a trip to visit relatives," he says.
He notes that representatives of the opposition Democratic Progressive Party (DPP) in Taiwan have welcomed Mr Zhang's initiative and are willing to meet him "with no agenda".
"They have changed the hostile attitude towards the mainland to one that is more logical and pragmatic," he adds.
Earlier in March, hundreds of Taiwanese students protested against a Cross-Strait Service Trade Agreement which they said would hurt Taiwan's economy and leave it vulnerable to pressure from Beijing.
And finally, Liu Tienan, former deputy chief of China's National Development and Reform Commission, has been charged with "taking bribes".
According to authorities, Mr Liu took advantage of his position and accepted "an extremely large amount" of financial incentives, reports say.
Commenting on the charge, an article in the Beijing News says that some officials "hold too much authority in the approval process which leads to abuse of power".
"Mr Liu's corruption case has reflected the downside of the approval power in the government. It is necessary to investigate these officials' actions," it suggests.
BBC Monitoring reports and analyses news from TV, radio, web and print media around the world. For more reports from BBC Monitoring, click here. You can follow BBC Monitoring on Twitter and Facebook.