China media: Iraq unrest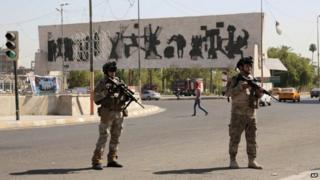 Media urge Chinese oil companies to remain cautious in Iraq in the wake of escalating violence in the country.
Fighters from the militant Sunni group ISIS have seized a number of Iraqi towns and cities in the past week.
According to local media reports, China's state-owned oil firms run several projects in the south and south-eastern regions of Iraq.
Beijing says it will "take all necessary means to ensure the security and the lawful rights and interests of Chinese citizens and institutions in Iraq".
Analysts tell the Qianjiang Evening News that the turmoil in northern Iraq will not affect Chinese firms because most of their operations are in the south.
But they urge the firms to remain cautious, saying the conflict may spread to other parts of Iraq in the near future.
Lin Boqiang, director of the China Centre for Energy Economic Research at Xiamen University, tells the China Daily that the turmoil will also affect Chinese oil companies' investment strategies in the Middle East.
Li Li, an energy information consultant, adds that China may "increase imports from other oil producers such as Russia, Iran and Oman if the Iraqi crisis lingers".
'Learning from Japan'
Meanwhile, media and experts urge Britain to stop playing up China's human rights issues as Premier Li Keqiang visits London.
Mr Li said he hopes that his visit would expand Sino-British co-operation and help "change misperceptions and misgivings".
Wang Yiwei, director of the Institute of International Affairs at the Renmin University of China, tells the Global Times that the UK's emphasis on China's human rights "could impede the development of Sino-British relations".
Another EU affairs expert, Cui Hongjian, urges Britain and "other European countries" to "adjust their mentality" and stop "teaching other countries".
And finally, photos of Japanese football fans picking up trash at a stadium despite their team's defeat to Cote d'Ivoire in the World Cup finals have generated discussions in the Chinese papers.
The Liaoning Daily lauds the Japanese fans for their civilised behaviour, adding that littering was a "bad habit of the Chinese".
"We must put aside political divergence toward the Japanese government and learn from the Japanese for their cultivated manners," The Global Times quotes a Chinese social media user as saying.
Wang Baoping, an expert on Japanese culture with Zhejiang Gongshang University, tells the paper that the Chinese lack a similar awareness when compared with the Japanese who pay "even more attention to their behaviour when they are abroad".
BBC Monitoring reports and analyses news from TV, radio, web and print media around the world. For more reports from BBC Monitoring, click here. You can follow BBC Monitoring on Twitter and Facebook.