China media: Premier Li's UK visit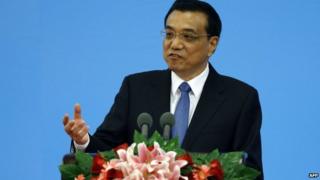 Media shine a spotlight on Beijing-London ties as Premier Li Keqiang begins his six-day trip to the UK and Greece on Monday.
Mr Li's visit to the UK comes at a time when China and Britain are celebrating the 10th anniversary of the beginning of their strategic partnership.
Media hail the trip as another major diplomatic event between China and Europe, following President Xi Jinping's Europe trip in March.
According to the China Net, deals worth more than $30bn are likely to be signed during Mr Li's visit to Britain.
Investment in infrastructure, high-speed rail, nuclear energy as well as London's role as an offshore yuan trading hub are on Mr Li's agenda, the report adds.
Shi Yinhong, a professor of international studies at Renmin University of China, tells the China Daily that Beijing and London need "mutual respect and attention to each other's major concerns" to maintain political trust.
"The two countries can develop a win-win relationship if the UK does not talk about China's sensitive issues and core interests like sovereignty and territorial issues," he said.
Experts tell the China National Radio that the visit will promote "pragmatic co-operation" between both countries.
Cui Hongjian, Europe Affairs expert at the China Institute of International Studies, says that Britain's infrastructure is old and needs a "makeover".
"China has the capability to do so," he says.
Commenting on the issue of financial co-operation, the Beijing Youth Daily says "the era of euro and renminbi as the main currencies will arrive" as trade and investment activities expand between Europe and China.
Taiwan ties
Meanwhile, media discuss cross-strait ties as China promises "more respect and understanding" towards Taiwanese "way of thinking".
Yu Zhengsheng, chairman of the National Committee of the Chinese People's Political Consultative Conference, said on Sunday that the mainland leadership would "listen to people of all walks of life in Taiwan".
"We understand the mentality Taiwan compatriots have developed under special historical conditions; we respect their identification with the current social system, values and lifestyle, and we know that some friends still harbour misgivings on the development of the cross-strait relations," Xinhua quotes him as saying.
Zhu Weiping, an expert on Taiwan affairs with the Chinese Academy of Social Sciences, tells the Southern Metropolis Daily that Mr Yu's remarks reflects that the mainland "understands the mentality of the compatriots in Taiwan".
"The mainland and Taiwan should work towards one China, but allow the differences to exist," he says.
Echoing similar views, Yang Yizhou, vice president of the All-China Federation of Taiwan Compatriots, says that the mainland has acknowledged the anxiety and insecurity felt in the Taiwanese society.
Earlier in March, hundreds of Taiwanese students protested against a Cross-Strait Service Trade Agreement which they said would hurt Taiwan's economy and leave it vulnerable to pressure from Beijing.
BBC Monitoring reports and analyses news from TV, radio, web and print media around the world. For more reports from BBC Monitoring, click here. You can follow BBC Monitoring on Twitter and Facebook.