Media discuss China's World Cup role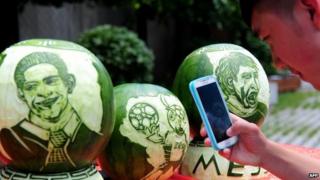 Media discuss China's role in the FIFA World Cup as the sporting extravaganza kicks off in Brazil on Thursday.
Papers note that China has failed to qualify for the event, but say the country's presence will be felt in Brazil.
The People's Daily exclaims that products and equipment made in China have "conquered the World Cup".
The report lists a number of items including security and transport facilities, the official match ball and other accessories manufactured by Chinese companies.
"Besides the small merchandises, Chinese high-end transport facilities are also roaming the streets in Brazil," it says.
A report in the Chongqing Morning Post observes that the commercial sponsors for the matches are "eyeing the big Chinese market".
"The international brands are holding thematic events in Brazil and have invited many Chinese journalists to attend," it says.
An article in the Information Times recalls that facilities in South Africa and Brazil were not even ready on the eve of the match.
It subtly hints that China is the "most reliable host for major sporting events" and is best suited to host the World Cup.
'Bandit logic'
Elsewhere, media outlets stand by China's decision to not bow to Japanese pressure withdraw its application to Unesco to have the Nanjing Massacre memorialised.
According to the Beijing Times, China has filed applications to list on the Memory of the World Register 11 sets of documents relating to the 1937 killings by Japanese soldiers.
"The Nanjing Massacre is a cruel violent act in human history. The whole world including the Japanese should learn the lessons from this negative heritage," Zhang Lianhong, Director of Centre of Nanjing Massacre Studies at the Nanjing Normal University, tells the Beijing News.
The overseas edition of the People's Daily calls the protest from Japan "bandit logic".
"They are apparently telling us that they are allowed to invade others and kill the masses, but they will stop you from voicing out," it says.
An article in the Beijing Times criticises Japan for "choosing to forget the collective memory of humankind".
And finally, China urges the international community to begin negotiation based on a China-Russia draft treaty to prevent arms race in outer space.
China and Russia have jointly submitted the Treaty on the Prevention of the Placement of Weapons in Outer Space on Tuesday to the the Conference on Disarmament sponsored by the UN.
"We call on the international community to work out a legally binding international treaty through negotiation based on the draft treaty submitted by China and Russia as soon as possible, so as to fundamentally safeguard peace and security of outer space," Hua Chunying, foreign Ministry spokeswoman, said in a news conference on Wednesday.
BBC Monitoring reports and analyses news from TV, radio, web and print media around the world. For more reports from BBC Monitoring, click here. You can follow BBC Monitoring on Twitter and Facebook.