China media: US solar tariffs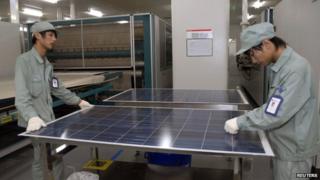 China-US trade disputes and an international court ruling over South China Sea territorial claims are the main themes in Thursday's papers.
The US has proposed higher and more extensive tariffs on Chinese solar panels, sparking strong reactions from Beijing.
The US Department of Commerce said it has plans to impose duties of between 18.56% to 35.21%. That is much higher than the tariffs announced in 2012.
China is the world's biggest maker of solar panels. But US manufacturers have alleged that government subsidies have helped Chinese manufacturers flood the US market with cheap goods, hurting US companies.
China's Ministry of Commerce has expressed strong discontent, saying the ruling will cause trade conflicts to escalate, reports say.
Wu Hui, a manager at Chinese firm Wuxi Suntech's sales department, tells Global Times that the preliminary ruling is "unfair", disagreeing with the accusation that the company "is in receipt of government subsidies".
The Securities Times criticises the US for trying to "contain China".
"Whenever there are trade frictions with China, the US resorts to trade sanctions and fiercely attacks Chinese companies. In particular, the US feels uncomfortable with the fact that Chinese companies are leading in the emerging industries and it tries all means possible to contain and prevent China from growing," it says.
The China Business Times notes that the proposed regulation will hurt China but "is not likely to benefit the US" either.
It adds that the trade dispute is a "microcosm of China-US trade frictions of recent years".
"Trade frictions are inevitable with the increased bilateral trade. It's worth noting that Beijing and Washington are solving trade disputes through the WTO, which plays a critical role in easing the problems," it says.
Territorial disputes
Elsewhere, media report that China has rejected a Hague-based arbitration tribunal's ruling that gave China six months to respond to a case filed by the Philippines over territorial disputes in the South China Sea.
The Philippines, Brunei, Malaysia, Vietnam and Taiwan all have overlapping claims with China in the South China Sea.
Tensions have escalated in recent days because of Manila's decision to take China to arbitration.
"China does not accept and will not participate in the arbitration case filed by the Philippines. This position remains unchanged," Hong Lei, China's foreign ministry's spokesperson, said in a press briefing.
Experts tell the Global Times that both parties have to agree to arbitration.
"If China rejects participating, the arbitration will not work… Even if the tribunal makes a judgment, China will not accept it," Ji Qiufeng, an international relations expert with Nanjing University, tells the daily.
And finally, more than 1,000 wealthy Chinese have filed a joint lawsuit against Canada's immigration authorities for axing its millionaire migrant scheme.
The Canadian government announced in February that it planned to scrap its 30-year old "investment immigration programme" due to an "overwhelming number of applications".
The scheme was designed to attract wealthy investors to Canada.
According to reports, the applicants are now seeking a potential payout of $16 bn (£9.8bn) from the lawsuit.
BBC Monitoring reports and analyses news from TV, radio, web and print media around the world. For more reports from BBC Monitoring, click here. You can follow BBC Monitoring on Twitter and Facebook.