Tiananmen anniversary: China tightens crackdown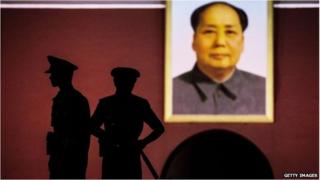 China has tightened security and widened a clampdown on dissent, ahead of the 25th anniversary of the Tiananmen massacre on Wednesday.
Lawyers, journalists and activists have been detained.
Internet search terms related to the 1989 massacre and the protests have been blocked, and access on Google has reportedly been restricted.
The protests were the biggest rally against Communist rule since the People's Republic was founded in 1949.
Hundreds of thousands called for democratic reforms in a peaceful demonstration largely focused on a gathering in Tiananmen Square.
After weeks of protests, the authorities responded on 4 June 1989 with a massacre of hundreds in the streets of Beijing.
Analysts say repression for the 25th anniversary of the protests is much more intense than in previous years.
The authorities began to round up and warn dissidents and activists weeks ago.
In recent days, the official repression has stepped up, with the apparent detention of a Chinese-born Australian artist on Monday.
Guo Jian was reported to have been taken away the day after the Financial Times newspaper published an extensive interview with him.
In the article, he revealed a large sculpture of Tiananmen Square made from minced pork.
---
Tiananmen protests
From 1978, China opened up its economy to the world, but Communists maintained total control over politics
In 1989, hundreds of thousands gathered in Beijing's Tiananmen Square to call for political reform
Protesters remained in the square for weeks while a power struggle raged within the ruling Communist Party
Hardliners prevailed and gave the order to remove the protesters by force; hundreds were massacred in nearby streets
---
At least 20 prominent academics, lawyers and activists to have been detained, according to the US-based group Human Rights in China.
And the Foreign Correspondents Club of China has issued a statement condemning increasing harassment and intimidation of overseas media.
One French broadcast team, picked up by the police while interviewing people about the Tiananmen Square crackdown, was interrogated for six hours and forced to make a video taped confession.
Witnesses say there is an increased security presence around Tiananmen, with paramilitary police guarding bridges and streets near the square.
At the time, the Chinese government characterised the protests as counter-revolutionary riots.
Beijing still does not acknowledge the event with any kind of memorial.
In Hong Kong, however, hundreds marched through the streets in a pro-democracy rally on Sunday.
Thousands more are expected to take part in a Tiananmen remembrance rally on Wednesday.
Taiwan's capital, Taipei, is also expected to hold a memorial.